Winter Training Programs NOW Open For Registration
Updated: October 31, 2018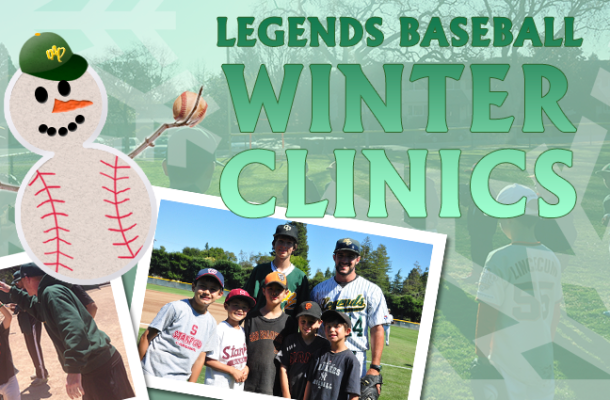 Legends Are Offering A Series of Winter Training Programs to Help Your Child Prepare for the 2019 Season!
David Klein's Catching Course is designed for catchers ages 10-18 who are serious about learning all aspects of catching. A highly respected catching coach, Coach Klein has been running catching clinics for almost a decade and has developed 5 catchers who have been drafted in the top 25 rounds of the MLB draft! 
The Indoor Hitting League powered by HitTrax is our most popular offseason hitting program. Designed to give your kids tons of hitting reps in a competitive environment this program is a blast for those who want a ton of cage time and enjoy competing with their friends. Instruction is limited however drastic improvements are made as players self-organize to handle pitching which gets more challenging with every week. This program is hosted at the state of the art indoor batting cages at the Foundry in Redwood City! 
The Intro to Pitching Clinic is the best way for young pitchers to learn the ins and outs of how to pitch. This is the perfect clinic for beginner pitchers or those who simply need some additional repetitions and instruction from incredible pitching coaches. 
The Swing Builder program is for ballplayers who need to rebuild their swing and/or make noticeable adjustments to their swings. Often times big adjustments are very necessary but difficult to make during the season in a team setting. Your child will be placed in small training groups with kids of similar skill level and be assigned a coach who will work directly with them on making necessary improvements to their swing patterns. This was one of our best new programs of last year as kids walked away from the program with a lot of confidence about their new swing! 
The Bat Speed development program is for high schoolers who are looking to hit for additional power and consistency. Run by local hitting guru David Trujillo, the kids will be hooked up to harness and innovative training devices to help the kids hit for more power than ever before. All development metrics such as bat speed and average exit velocity will be tracked throughout the course of the program to ensure development occurs. We saw massive improvements last year in every player who signed up. Highly recommended for high schoolers looking to get a lot of hitting reps leading up to the season.