Winter Academy Underway!
Updated: December 15, 2020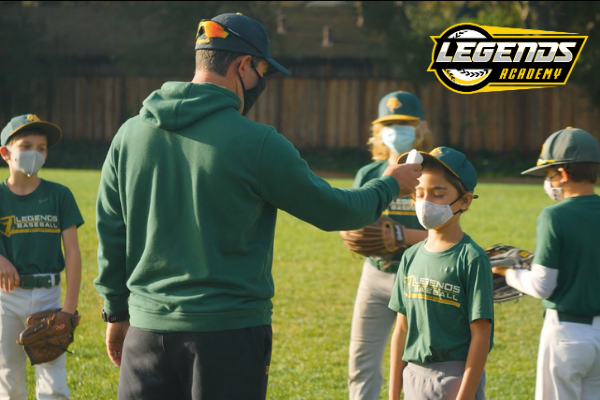 The Legend Winter Program is rocking and rolling!

As of December 16th we have space to add a few more 8-10 year olds to join us after Winter Break, so if you are interested in joining, feel free to email david@menloparklegends.com to learn more!

Legends Reinvented Winter Academy Program: 
6, 2 hour practices run by experienced and professional coaches
4 kid pitch weekend games 
2 half day boot camps! 
2020 Academy Legends Hat (for new players)

Other Details
2-3 professional coaches per pod (junior coaches may be added as well) 
4 vs 4 vs 4 games within the pod 
All fields within 5-10 mins from Menlo Park
2 placeholder makeup days so nothing is cancelled

Practice & Game Locations
Encinal Elementary School (Atherton)
Practice & Game Times
CLICK HERE to get a feel of our practice/game schedule (see tabs at bottom for pod times)


A letter from the Executive Director, David Klein regarding the 2020/2021 Winter Program Setup
As you know, it is my mission to design effective programs which meet the specific needs of families during this challenging time. After working with the community to learn the needs of our families this Winter, we have designed a unique Winter program which we know will meet the needs of the families and boys in the community. 
Below are the findings from our feedback surveys, the elements we considered when designing our Winter program, along with how we addressed these issues with our Winter program setup (in order of importance)… 

#1 Most important factor: Limiting risk Covid
Unfortunately we are still battling this pandemic… While the numbers locally are good and fairly stable at the moment, after polling the community, it is clear that we all believe the most important factor when signing up for in person program is limiting risk of Covid. We all clearly want to protect our families and friends, and we do not want to be a contributor to the problem in the community.  
How this was addressed with our Winter program setup: 
We are taking the week off after Thanksgiving when people will be inside a lot (program starts Dec 5th). We are also taking a 3 week pause during Winter Break and around NYE – this includes taking the first week off when returning to school, which will serve as additional buffer and quarantine time before getting the boys back together. This will also give families a chance to get their feet under them after the holidays (we pick back up on Jan 9th with a half day bootcamp at Encinal). 

#2 Most important factor: Reducing risk of burnout to preserve love of the game!
Both the Legends and our families share a desire to ensure our boys do not burn out from baseball. The most important thing when it comes to the game itself is that the boys are having fun. If they are overwhelmed with the amount of baseball this could zap their passion. Going into Spring after a full winter of baseball could be a little overwhelming. 
How this was addressed with our Winter program setup: 
We will offer 2 field events per week. One practice during the week and one game, practice or bootcamp on weekends.  We believe this is a good cadence, especially around the busy holiday season and will keep the boys hungry to be out on the field. Lastly, as far as burnout, the multi-week breaks around Thanksgiving and Winter Break will allow the boys to recharge their baseball batteries. 

#3 Most important factor: $ Cost and making the program affordable
We understand our program is a big financial commitment for many of the families. Especially during a challenging year, when there may be more financial uncertainty. 
How this was addressed with our Winter program setup:
We reduced the costs of our existing program to be just $995 total. The cost per field event was also reduced by 15% (also in part that some may miss a practice/game or two). 

#4 Most important factor: Vacations and weather conflicts
Many mentioned they were traveling and would miss practices/games if we ran them over the holidays. Additionally weather concerns were cited in the surveys, in that parents wanted to know what would happen with rainouts. 
How this was addressed with our Winter program setup:
With a full break from December 19th – January 9th, we hope this will limit many vacation conflicts. That said, we know some still plan to go skiing on weekends… We hope lowering costs will make it so those who have to miss dont feel like they are throwing money away on missed programming. For rainouts or issues due to weather we are building in a practice and game reschedule placeholders which would be activated after our last officially scheduled game on Jan 30th in the event of any cancellations. Any cancelled practices and games WOULD be made up. 

A few additional notes, program improvements, considerations and things to know when making a decision about whether to continue:

The Schedules
If you are interested in seeing the tentative schedule for the Winter, please CLICK HERE! 

Introducing Legends Boot Camp!
We'll have 2 half day bootcamps to kick things off right after Thanksgiving and right after Winter Break. These are designed to be fun but to also reintroduce the fundamentals – the basics that every kids needs to be doing correctly (stretching correctly at first base, pre-pitch routines at the plate, throwing mechanics, baserunning basics, how we take the field, how we dress, how we support each other…) just knocking a ton of these items out in 1, action packed, half day event. 

Little League this Spring?
I have recently been sharing ideas with both MA Little League and Alpine Little League. Right now, both intend to run a Spring season, however it is uncertain if they will be able to do so. The biggest issue right now is field space as Menlo Park Parks and Rec has not been willing to rent fields to baseball programs.  Either way, we made this schedule assuming Little League WILL run, and if it does, our schedule will not bleed into Little League. Little League typically starts practicing the first or second week of February. 

Field location will remain at Encinal
As of now everything will continue to be at Encinal. This has been the perfect location for our program for many reasons. We are considering investing some money to improve the field. We already rebuilt the mound during the summer but may redo and re-level the home plate area. We also may fix up the dugouts a bit as they get some nasty puddles when its wet out. If you are interested in helping us improve the Encinal field, or have contacts/ideas feel free to reach out! 

Additional focus on individualized instruction & technical training
At our next coaches meeting we will be implementing some new plans so that kids get more private and detailed instruction time, particularly at the start of December and January practices. One idea I have been utilizing at my own practices is have 1-2 kids immediately do a 20-30 min private lesson upon arriving at practice. Instead of doing the normal warmup – we just have a coach pull that player aside to work with them while the rest warm up. Typically we focus on the players who need it the most but our aim is ramp up the technical training to accelerate growth for all players. Additionally, I am planning to bring on a few extra coaches and overstaffing when possible so we just have more eyes, more reps and more instruction on the field. 

Roster sizes and selecting availability on TeamSnap
For this session we are asking that everyone DOES stay on top of their TeamSnap availability. This will help us make detailed practice plans and also make the game lineups before getting to the field. It will also let us know if we should expand the roster slightly to have full teams for our games. If we know we are only going to have 10/11 per game, we would expand the pod size slightly to ensure we run quality games without coaches having to play the field.
The best way to learn more about the program is to either CLICK HERE to read through some informational webinar slides OR you can CLICK HERE to listen to Executive Director, David Klein introduce and talk about the program in depth. 
If you would like to see the tentative schedules for our 4 pods you can CLICK HERE.


If you are interested in joining, we are looking to add a few 8-10 year olds to start with us after Winter Break!