NEW Mental Toughness Clinic on Nov 7th!
Updated: October 18, 2019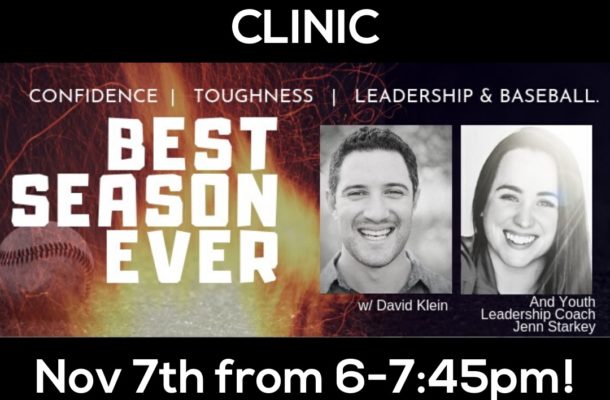 BEST SEASON EVER! 
Mental Toughness Clinic for Baseball Players
The Legends are excited to partner with Jenn Starkey, one of the top mental performance coaches in the country, to offer an interactive mental performance clinic for athletes who want to be TOUGH, CONFIDENT & AWESOME!
At this high performance and leadership clinic, you and your athletes will discover the secrets of the mental game usually taught only to elite athletes at the collegiate or professional levels. 

This clinic will cover: 
🔥 How to build confidence and mental toughness
🔥 Improve intensity at practices and games
🔥 How to get out of slumps faster and get "In Flow" quicker and more often
🔥 How to step into a leadership role even if you don't FEEL like a leader
and much more.

When: Thursday, Nov. 7th from 6-7:45pm
Where: Menlo-Atherton HS Library – 555 Middlefield Rd, Atherton
Ages: 10-18 
Cost:  $49  Save 50% ($24) with promo code MENLO (max 25) 
Parents and coaches are FREE  🙂 


About the Speaker:
While competing as a Division 1 softball player at her dream school, Jenn's life was unexpectedly turned upside down.

On the verge of losing everything, Jenn discovered the secrets to success that will help you conquer any obstacle, master the mental game and win in sports, school and life!

Coach Jenn is now a Best Selling Author and the Go-To Mentor for top athletes and coaches across the country who want to take their game to the next level in all areas of life.

This clinic has been given to top programs across the country!
Checkout these testimonials!
Head coach of Spalding University says " I saw Coach Jenn engage athletes, that I NEVER thought would engage with anything!"
Mattawan High School Baseball Varsity Team Coach Said "At first, the guys were a bit skeptical of how a girl was going to actually help their hitting performance. We combined her Best Season Ever Clinic with a Zen Hitting session and she hooked them immediately, in one session the team was hitting with more power and increased comfort at the plate, and they won't stop asking when Jenn can come back."
15-year-Old Madison from Louisville, said " My mom said she can't BELIEVE that this one 2 hours session has turned me into a different kid! My life is totally different now! I can't wait to keep working with Coach Jenn."
Beth Serda from Alabama says "The majority of our Lady Storm 12U team attended your seminar yesterday at Going Yard Sports. From an All State high school softball player, a Jr college softball player, a coaches wife and a mom of a softball player, I thoroughly enjoyed it! I look forward to my daughter learning more from you. Thank you for doing this for all of the young athletes! You have a gift!"
At Best Season Ever, Jenn unpacks the best strategies of top performing athletes & coaches and gives them to you!