The second walk-off hit of the week pushes Legends past the Pearl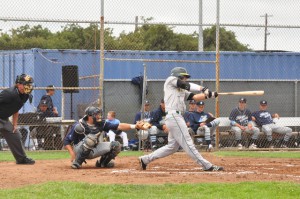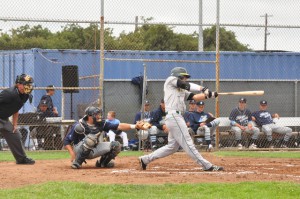 The second walk-off hit of the week by the Menlo Park Legends intercollegiate baseball team gave the Legends a 3-2 victory over the visiting Neptune Beach Pearl yesterday at Cañada College in Redwood City.
"We've been battling to the end of the game," manager David Klein said. "If we get behind, it doesn't matter. We don't press and stay confident and get the clutch base knocks when we need them."
Utility player Brent McMinn led off the bottom of the 9th inning with a pinch-hit double down the right field line. Then on a hard hit grounder by second baseman Tyger Pederson, McMinn advanced to third base, rounded the bag with no hesitation and made a sprint towards home plate, where he would slide right under the tag to win the ball game.
"I wanted to be aggressive and it was a good time to be aggressive," McMinn said. "I saw the ball get past the defender and I decided to take a risk and make them make a play and put it on them."
Starting pitcher Eric Davila struggled in the opening innings of the game, but managed to turn it around and throw a very efficient game after the first three innings, striking out four batters. CJ Jacobe came in relief in the 8th inning, striking out two batters and allowing only two hits.
Pederson and shortstop Pierson Jeremiah supplied five of the Legend's seven hits of the night. Outfielder Abi Arias came in as a pinch hitter in the bottom of the seventh inning in the midst of the team's first rally of the day, where he hit a triple up the right field line.
The Legends play their final two games of the regular season at the College of Alameda against the Pearl, today at 2:00pm and tomorrow at 2:00pm