The 2014 Legends Baseball Experience!
Updated: October 13, 2012
The 2014 Legends Baseball Experience!
A unique summer experience where children will be immersed within an energetic and exciting summer baseball culture!
NOW WITH 3 LOCATIONS
MENLO PARK | REDWOOD CITY | PALO ALTO
The Legends are excited to announce another summer of Legendary baseball camps! For the 2014 summer, our goal is to take our specialized camp programs to "the next level". We now have 12 one week sessions and 3 locations.
Your child will interact daily with enthusiastic and knowledgeable college baseball players from the Menlo Park Legends collegiate summer team! Whether your child is a first timer or an experienced All-Star, our infamous camper to coach ratio allows for the most positive and intimate learning environment possible. Private and small group instruction, along with a variety of proven drills, games and exciting contests are utilized to ensure your child is having a legendary time while simultaneously learning new skills! And, if your child is not too drained after camp, he can come to Legends games, hangout in the dugout, watch his favorite coaches play and even be a batboy!
Camp Program Includes:
Detailed hitting instruction
Teaching correct pitching mechanics
Coached games & exciting contests
Fielding and base running coaching
One-on-one instruction
5/1 Coach to Player ratio
Confidence and focus techniques
Awards, prizes, plus a camp T-shirt!
Ages: 6-12 (all levels)
FREE FRIDAY LUNCH!
…So don't hesitate! Take advantage of the early bird discount and sign up for this specialized baseball camp, which has had campers returning for years!
We wish your child a successful baseball season and hope to have you a part of the 2013 Legends!
Details
$335 –  Early Bird Pricing till April 1, 2014

Legends Experience! The Fun Doesn't End at 2pm!  A unique after camp baseball experience with Legends Coaches and Players ($50)– **More info below 
How to Pay with Check: *Preferred method of payment… PayPal can be glitchy and they also take a percentage ($335 – 1 week, $650 – 2 weeks/kids, $965 – 3 weeks/kids, $1280 – 4 weeks/kids, $1595 – 5 weeks/kids, $1910 – 6 weeks/kids)
Checks made out to: Menlo Park Legends Baseball
Checks sent to: Menlo Park Legends Baseball, P.O. Box 280, Menlo Park, CA 94026-0280 (please note child name and weeks attending)
If you have any problems with registration or payment information please do not hesitate to contact me for a fast response
 
** We are now offering FREE LUNCH on Fridays!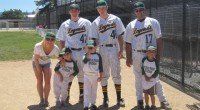 "Excellent opportunity for young athletes to "learn from the pros". All Staff members made all boys feel welcome and proud of their accomplishments!"
"My sons had an amazing week! I'm so impressed by the camp and instructors. The boys not only had a ton of fun, but learned a lot in the process. We'll be back again next year!"
NEW & Updated Camp Programs for 2014 Summer!
LEGENDARY LUNCH FRIDAYS!!! (FREE!)
For the first time, the Legends will be providing complementary health conscious lunches on Fridays. The menu will consist of traditional bar-b-que items, but healthy choices! Turkey burgers, turkey hot dogs, fruit juice, milk, baby carrots, and celery sticks. If your child has special dietary needs please make note and we will do our best to accommodate!
LEGENDS EXPERIENCE! After Care – Wednesdays and Fridays only: 2:30-7:30, pick up at Canada College – $50 includes dinner! ***ONLY 10 spots available/day
"Legends Experience" is a specialized aftercare program where your child will stay after camp and head over to the Legends home field to watch their favorite coaches play in a real live game! The Legends Experience will give your child the opportunity to throw out the first pitch, be a bat boy, chase down foul balls, announce the Legends starting lineup, participate in multiple between inning games and activities, and sit down and interact with their favorite Legends players and coaches! There is nothing like this anywhere! A complementary snack and dinner from the Legends grill will also be provided. Pick up will be at Canada College (4200 Farm Hill Boulevard, Redwood City) at 7:30 PM.  Sign up online by adding to cart before checking out
LEGENDARY LIVING! NEW for 10-12 yr old age group!
In order to better achieve our goal of developing young athletes skills while teaching valuable life lessons, the Legends will be providing lunchtime education sessions on exercise and healthy living habits.  Becoming a confident and skilled baseball player requires making quality decisions about what you do in your free time and what you eat. Although the majority of young children learn similar material in school, young athletes often need to learn on their own the special requirements to be a top notch athlete! our belief is that learning these techniques from their role models will only enforce these important lessons and hopefully will resonate in many of our young campers. Theses practices and lessons are vital to anyone who wishes to play sports at in junior high, high school, college and beyond! might as well start teaching them early!
Brief Discussions will take place during lunchtime and prizes will be given for those who are paying attention!
Areas of discussion will be:
– The importance of stretching on a regular basis
– The importance of giving your body enough sleep, rest and time to recover
– Arm strengthening techniques and how to keep your arm healthy
– The right time to start weight training and what baseball players focus on
– The secret to power hitting at the little league level
– What athletes eat versus what non athletes eat and why its important
– Examples of quality/nutritional meals vs unhealthy meals
– The best way to get ready and prepare for games
JUNIOR COUNSELORS! (designed for graduated Legends campers) 
Has one of your children outgrown legends camp?? If so,  he may be at an age where he can benefit from summer work responsibilities. The legends are looking for a few junior COUNSELORS to assist throughout the day. COUNSELORS will be given on/off field responsibilities and will work directly alongside Legends camp coaches. Please contact David if you have a child who is interested in learning more about the Junior Counselor program.
HOST FAMILIES
Yes, we are still looking for a few more host families for our fabulous Legends players! 
Click here to learn more!