Host Family Program
Turn a second bedroom into a summer your family will never forget!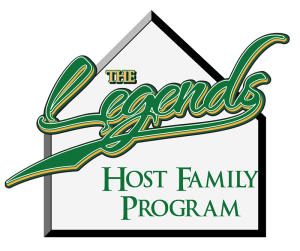 The Legends are looking for  host families to house an out of state Legends player for the  summer baseball season (roughly the last week of May-first week of August). This is a truly special opportunity for "baseball families" to open up their home to an aspiring major league baseball player! Cool, right!?
The relationships built and memories made from the Legends host family experience are guaranteed to last a lifetime! Please consider the opportunity to help a student athlete pursue his dream of being a professional baseball player!
Our two summers hosting Legends players were fantastic! We could not have asked for better matches for our busy household. Both players were of the highest character and a joy to have around.  They fit right in, made positive contributions, and served as excellent role models for our two young boys. Through these players we all learned more about baseball and so much more. We continue to stay in touch with the players and their families and enjoy following the development of these outstanding young men. We have enjoyed the opportunity to become more involved with the Menlo Park Legends, a great organization that has been a big part of our sons' lives.

– The Axline-Ball Family
Each summer, one the most important duties of the Menlo Park Legends Baseball Organization is to find housing for Legends ballplayers, whether they are traveling nationally or internationally to join our team.
---
BRING THE FUTURE OF BASEBALL INTO YOUR HOME

This will be our fourth summer hosting a Legends ballplayer – something our family (which includes 2 college-aged daughters) truly looks forward to!  Simply put – hosting these young men of character has enriched our lives.  The players we have met have become like family members to us.  They have all been polite, good natured and most of all have tremendous integrity.  We enjoy cheering them on at Legends games and getting to know them throughout the summer.  I have to say, the eight weeks they are with us fly by way too quickly!
We had an unbelievable summer hosting a pitcher for the summer with Legends. He was polite, helpful, and a tremendous role model. He became a part of our family, bonded and played with our kids, and will forever be in our lives. We are so happy to have hosted!
For more information in the Legends Host Family Program, please fill out the form at right or call 650-387-4427!