Leichman & Klein compete in World Baseball Classic Qualifier
Updated: October 11, 2012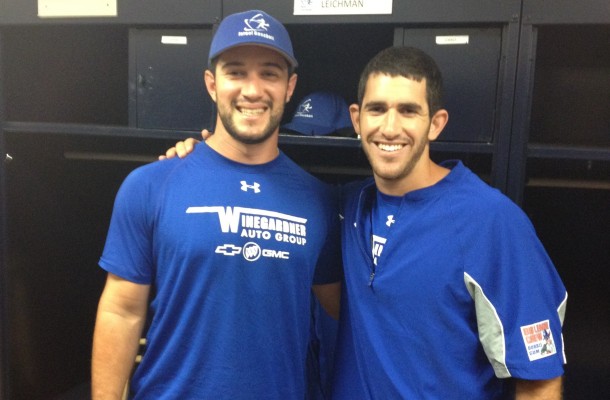 When Legends manager David Klein moved to Israel in September of 2011 with the goal of spreading baseball he had no idea the additional opportunities which would eventually come his way. During his 5 month stay in Israel, David learned about Alon Leichman, a right handed pitcher who just finished his mandatory 3 year army stint.
Alon, who grew up on a Kibbutz 30 minutes out side of Tel Aviv is widely regarded as the greatest
David & Alon in clubhouse at Roger Dean Stadium in Jupiter, FL.
baseball player to ever come out of Israel. Although Alon was coming off Tommy John surgery (sidelining him at Cypress Junior College in southern California) David invited Alon to join the 2012 Legends Summer Collegiate Team.
Alon turned out to be a tremendous part of the 2012 Legends summer season. In fact, Alon was the Legends top pitcher and was awarded First Team All Far West League Honors.
Alon and David's baseball relationship did not stop there. During the middle of the summer Alon and David were contacted by ex-MLB All Star Brad Ausmus and were invited to fly out to Jupiter, Florida to tryout for the World Baseball Classic – Israel National team. WBC rules state that any athlete of Jewish heritage is eligible to play in the September qualifier, which is a 4 team tournament between Israel, South Africa, France and Spain.
Managed by Brad Ausmus, Team Israel will feature current Jewish Minor Leaguers, ex Jewish Major Leaguers as well as top Israeli players including Alon.
Shawn Green and Gabe Kapler (ex MLB All Stars) have come out of retirement to play for the team. Joc Pederson, brother of Tyger Pederson who played 2 years with the Legends, is in the Dodgers organization and will be competing for the team as well. While it may be a long shot for Klein to make the final roster (due to the stiff competition with minor leaguers) Alon learned he made the team on Wednesday, September 12th.
The tournament begins on September 19th with team Israel's first game against South Africa. If Israel wins the 4 team tournament they will be entered into the World Baseball Classic which takes place in the spring of 2013. Stay tuned for news and updates about our 2 Legends competing in the WBC Qualifier!
News Articles featuring Alon: