2012 Season in Review
Updated: October 16, 2012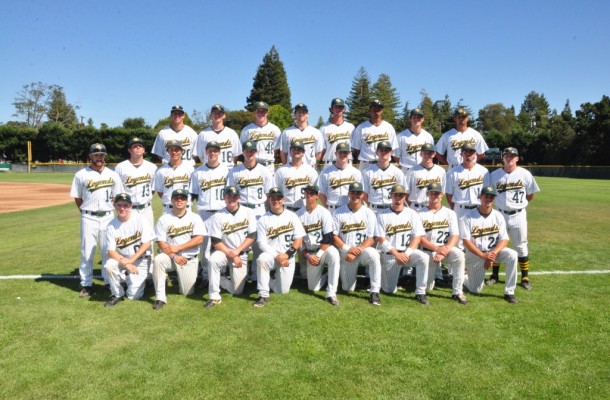 The Menlo Park Legends finished their 2012 regular season taking 2 of 3 games from the Neptune Beach Pearl on their way to a second place finish in the Far West Baseball League.  The Legends (31 – 13) prepare this week for a rematch against the Pearl to start the league playoffs August 3rd at Arcata Ballpark in Humboldt.
Manager David Klein had to be happy with the results of 2012.  He kept a strong nucleus of players from 2011 and added several talented newcomers to his roster.  The two summer months of baseball had many ups and downs, but had to be judged an overall very positive success.  Brian Haggett and Jason Merjano were expected to be regulars when the season began, but injuries forced Manager Klein to juggle his lineup  with outstanding results.
Taking 2 of 3 games at always tough Atwater started the team on an eight game season opening road trip that finished a respectable 4 and 4.  A home loss to the Nor Cal Longhorns was followed by a six game win streak.  After two frustrating home losses to the Redding Colt 45′s, the Legends won 15 of their next 19 games.  Another six game win streak capped the end of the regular season before a final game loss to the Pearl.
Andrew Castendeda made several outstanding catches in centerfield before battling with leg injuries.  He lead the team with a .422 average and swiped an impressive 16 bases.  Even while injured he managed a walk-off single against the Southern Oregon Riverdawgs. Jeff Keller (Dartmouth) was superb at any position (.394, 6 hr, 30 rbi, 16 sb).  He had an ESPN highlight catch to end a game falling over the rightfield wall at Canada.
Pierson Jeremiah (Chico State) was asked to move to shortshop with the Merjano injury and did a great job being to glue holding the infield together.  Jeremiah's offensive stats nearly matched Keller (.355, 17 2b's, 30 rbi's, 7 sb).  Tyger Pederson (UOP) was the catalyst out of the leadoff spot (.304, 19 rbi's, 17 sb) and unselfishly moved to second base from his normal outfield position.  Grant Nelson (.319, 25 rbi), Chris Freeman (.308), Abi Arias (.288) Peter Woodall (.281), Mike Marcoux (.280, 20 rbi, 12 sb) were all solid contributors.  Joe Goldenberg (.270, 5 hr, 26 rbi) and JT Greenhood (.270, 2 hr, 20 rbi) helped supply power in various spots in the order.
The pitching staff was anchored by Ray Torres (UNHM) who threw the game of the year in a 1 -0 masterpiece against the Palo Alto Oaks.  He threw 47 innings with a 3.06 era and 5 wins.  Alon Leichman (1.48, 5 win), DJ Sharabi (2.72, 4 win), Eric Davila (3.88, 2 win) and Jacob Eichhorn (3 wins) were all solid starters.  Joe Goldenberg (U of Hawaii) was nearly unhittable with 18 k's in 10 innings (4 saves).  Darren Gidley (2.31, 1 win, 2 saves) and CJ Jacobe (1.38, 4 wins, 1 save) were also solid in the bullpen.
Manager Klein continued to seek games against the best competition in the area and the Legends responded by taking series from the San Luis Obispo Blues (2-1), North County Indians (2-0), Bakersfield Braves (3 -0) and San Francisco Seals (3-0).  The Humboldt Crabs and Redding Colt 45′s were the only teams to capture a series against the Legends.
Two impressive additions to the 2012 Legends staff contributed greatly.  Ali Recht, Assistant General Manager, handled most of the game day details and did an outstanding job.  Her prior experience with the Washington Nationals and Hagerstown Suns helped great a minor league like environment at the Canada games and the Legends fundraiser.  Pitching coach Bill Ryan added his vast experience to the mound staff.   His patience and sense of humor was greatly appreciated by the pitchers and catchers.
Thank you to all the fans and parents who came out to support the Legends.  Your attendance was greatly appreciated.  The playoffs are expected to be exciting Crabs, Pearl and Riverdawgs providing touch competition with many D-1 players.  The games will be available on the Legends website (menloparklegends.com) for twitter updates and gamechanger for play-by-play.