Legends Summer Internships
Updated: January 11, 2015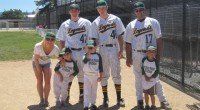 The Legends are currently recruiting interns for the summer baseball season!
The Menlo Park Legends Baseball Program will kick off the new season in May and we are looking for qualified interns during the pre and summer season. We have designed custom-tailored internships to a wide variety of educational needs, among them: conducting studies of our fan base and marketing strategy; of our business-support base and community growth opportunities; of parents of youth baseball campers; and of other similar programs in other communities to maintain that competitive edge. Many of our interns have leveraged their Legends baseball experience into careers in sports management, journalism, and communications.
Interns have also been part of the team support staff and (under good supervision from management roles) have arranged for team travel, assisted with promotional game days and on-field special events, and handled baseball operations via management and support roles in the press box.
If there are students who will be staying local on the Peninsula (or returning back to the Bay Area for the summer from their respective college) and want to have a first-rate volunteer intern experience, we can provide it. We are looking to fill managing roles and business-support interns in the pre-season months for necessary strategizing and planning for the upcoming season.
Look for us on campus or via online career services.
*ALL INTERNSHIPS WILL START IN THE BENINING OF APRIL AND GO THROUGH EARLY AUGUST. DAYS AND HOURS REQUIRED WILL VARY BASED ON THE LEVEL OF THE POSITION.
 Assistant General Manager – Assistant to the General Manager (paid position)
Director of Sponsorship/Marketing: Assist with community outreach for local business sponsors and promotions as well as putting together various marketing materials. Opportunity to earn commission on all sponsorships.
Event Coordinator: facilitate special events as well as continually brainstorming and proposing new event ideas
Social Media/Blogger: helps to maintain all 'Legend' social media handles (i.e. Twitter and Facebook) as well as providing content for the 'Legend' blog
Game Day and Camp Operations Interns:
Game Day Manager: planning and responsibilities for all game day activities
Game Day Staff
Legends Experience Youth Director: entertain and oversee youth during game and after camp hours
PA Announcer: assists with in-game broadcasts
Retail Services: sell snacks, drinks, and bbq as well as sell a variety of 'Legends' merchandise
Statistician: keep track of player's stats and score book
If interested in any of these opportunities do not hesitate! Please fill out the form below and we will get back to you on our Legendary internship opportunities.
"BE PART OF THE LEGEND!"
---
[contact-form to='mplegends@gmail.com%26#x002c; michael@menloparklegends.com' subject='Legends Baseball Program Internship'][contact-field label='Name' type='name' required='1'/][contact-field label='Email' type='email' required='1'/][contact-field label='Phone' type='text'/][contact-field label='What type of internship are you interested in?' type='textarea' required='1'/][/contact-form]