Menlo Park Legends Collegiate Baseball


The Menlo Park Legends collegiate summer baseball program is the premier summer college baseball team in the San Francisco Bay Area. They compete in the prestigious California Collegiate League (CCL) which is funded by Major League Baseball. Our organizations' resources allow us to provide college athletes with a first class summer baseball experience. We feel strongly that the competition end experience we provide our players is as good as that of any Northwoods or Cape Cod team (maybe even better!).
Download Player Recruitment Information
WHY THE LEGENDS
Playing for the Legends offers top-level competition, state of the art training, first class hosting, and more all in the beautiful California environment.
Games at the best venues on the West Coast
CCL All-Star Game nationally televised on Fox
First class host family accommodations
Experienced and professional coaching staff
Goal setting and post season assessment
Indoor hitting facility
In depth video analysis
State of the art gym access at Mobius Fit
Summer conditioning program
Full time trainer and nutritionist
Mental game/visualization sessions with Olympic sports psychologist Bobbie Salinger
Approximately 50 games
Community involvement and "giving back"
Opportunity to work at Legends youth camps
All games broadcast or televised
Home games played at Cañada College–one to the top collegiate baseball venues in Northern California
Experience beautiful California!

Players Drafted
MLB affiliation promotes the opportunity to be viewed by professional scouts, including the opportunity to participate in nationally televised All-Star Game and MLB sponsored combine. In our 7 year history numerous players have moved on to sign professional contracts. In 2015 we had 5 previous Legends selected in the draft (more than half of our drafted players have played for Legends 2+ years)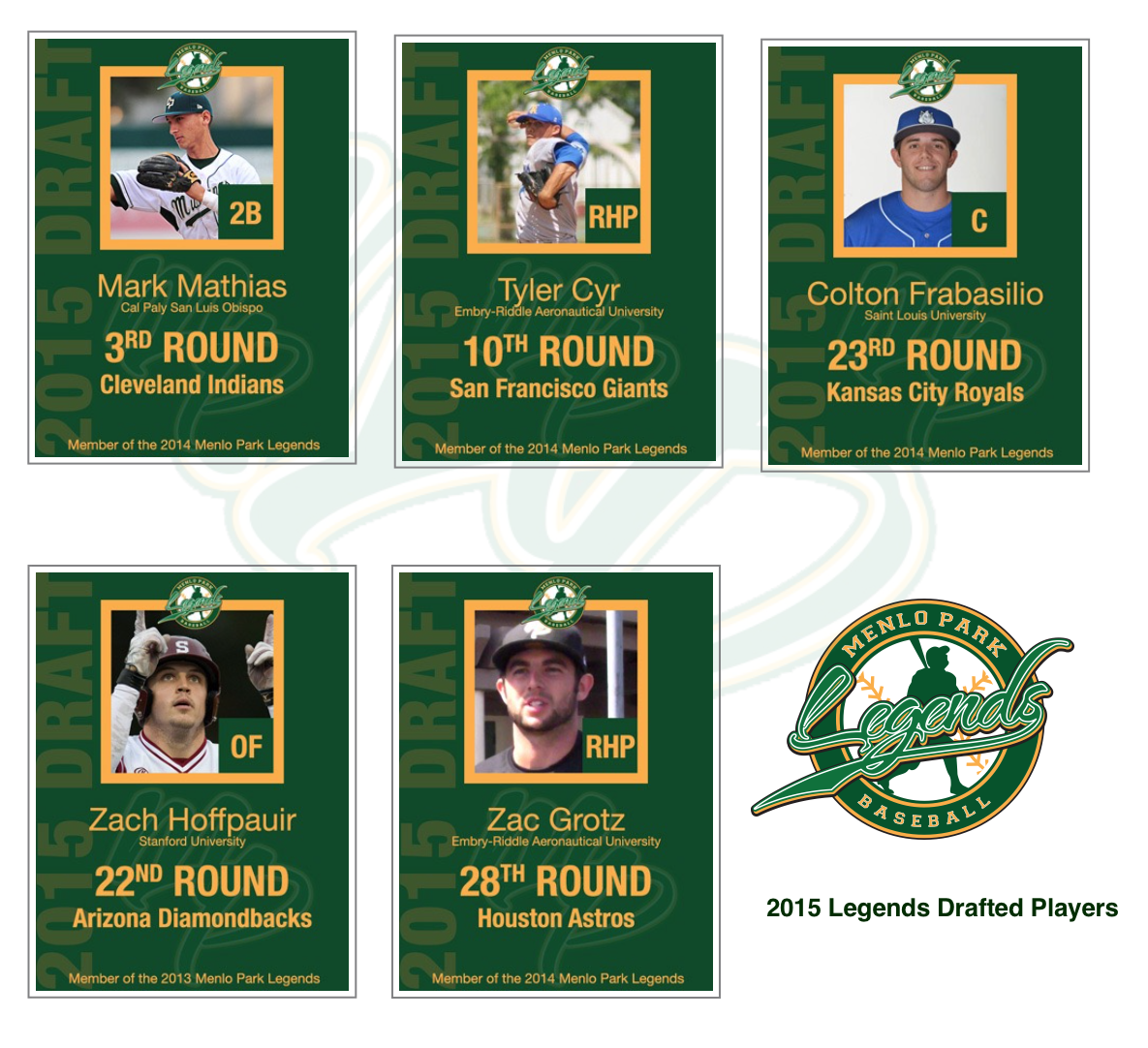 Legends FAQ
What type of players are you looking for? 

Polite, high character, hardworking, no risk type player
Division 1 starter or will compete for a starting role
Has both potential and desire to play a the next level
How much playing time can I expect my player to have? 

Assuming your player is healthy, position players normally have well over 100+ at bats. Healthy pitchers can range from 20-35 innings depending on whether are a start or reliever

How do your host families work? 

We have an extensive products consisting of interviews and surveys to ensure we establish the optimal match between the player and host family. Almost all hosts are families or children who attend Legends camp.

How much does it cost the player? 

For out of state host players there is NO COST to play on the Legends. We do require out of state players to help coach our summer camp.

When do you start signing players?

For the 2016 summer, the Legends are already in the process of signing players. We expect to have the majority of our team signed within between Sept-October 2015.