Little League Support
Little League Support Offerings
Must be booked by December 31st to ensure availability
(Jan 28/29th unavailable)
Independent Player Evaluations– Our independent player evaluation is a highly detailed and filtered/sorted spreadsheet which includes evaluations on each player's hitting, fielding, throwing, base running ability as well as a general "makeup". Each skill is given a number ranking and weight and is then combined to result in a total score. Comments will be added to each player so coaches can draft their teams in a similar fashion to a fantasy football draft. The spreadsheet can be sorted and formatted however your league wishes (by age or by level). See below for example of tryout evaluation.

$750 (turnaround time is approximately 5 days)
Limited weekends available. Must be booked at least 1 month in advance

Outsourced Tryout – David has run tryouts for many local little leagues including Alpine LL, Menlo Atherton LL and Redwood City LL. David and his staff of enthusiastic coaches will facilitate all of the on field activities for your Little League tryout so your coaches can sit back, relax and conduct their own evaluations.

$750 (3 coaches including David for full 8 hour tryout day + additional 2 hr makeup day)
Skill building option available (combined instruction with the tryout)
Limited weekends available. Must be booked at least 1 month in advance
Coaches Clinic –David's coaches clinic is designed to offer parents an in depth training on the fundamentals of baseball and how best to deliver quality instruction to children. David's program offers unique drills, practice plans and philosophies to ensure kids are learning the proper skills and maximizing repetitions while still have a fun! Coaches will leave with valuable tools and practice plans to help them organize high level practices and maximize the potential of their team! See attached for sample marketing flyer and snapshot of 15-page handout provided to coaches.

$50/coach or $750/league (3 hour clinic)
Limited weekends available. Must be booked at least 1 month in advance

Practice Kickstarter – David will run your team's practice to teach your kids and coaches proper practice drills and habits. This program is a home run for any coaches who need guidance on how to run an efficient practice maximizing repetitions and instruction while still having fun. David will leave your coaches with practice plans so you they have a structured practiced every time they show up at the field. The practice kickstarter will teach:

How to set rules/standards for your team
A proper warm-up and stretching routine
A standardized throwing program
3 part drill rotation to maximize reps (infield, pitching, hitting)
Proven drills and how to instruct children on all areas of the game
How to incorporate games and competition into practice
$150/2 hour practice or 3 practice package for $400
Unlimited phone support after the practices are completed

Skills Clinics – David and his staff of knowledgeable coaches will facilitate high-level instructional clinics on various topics for your league.

Hitting
Fielding
Advanced Pitching/Throwing
Intro to Pitching
All Skills (hitting, fielding, pitching/throwing/base running)
Please inquire for estimate. Price depends on how many kids, coaches and hours needed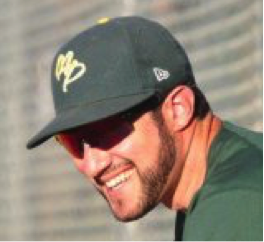 David Klein's Bio
Founder, Executive Director and Head Coach of Legends Baseball
501 (c) 3 Non Profit – Tax ID 800947979
650.387.4427 |   David@menloparklegends.com
David Klein is the passionate Founder, Executive Director and Head Coach of Legends Baseball. An inspired teacher of the game, David has been coaching aspiring ballplayers of all ages and skill levels for over 10 years. He has strong beliefs about work ethic, dedication, goal setting and is constantly schooling his players on the mental game of baseball.
David was raised in Menlo Park, played for Alpine Little League, Palo Alto Babe Ruth and Menlo Atherton High School, where he was elected into the Baseball Hall of Fame. David continued his career at Santa Barbara City College and UC Santa Barbara where he was an all conference player his freshman and sophomore years. Following his playing career David launched Legends baseball in 2008 with the goal of creating a community-based collegiate team and summer camp in his hometown. Through the Legends program, David has coached over 40 players who have signed professional contracts and has grown the Legends Baseball non-profit to be one of the largest providers of baseball instruction in the Bay Area. His newly formed Legends academy is a holistic development program serving over 100 local ballplayers and focuses on improving children mentally, emotionally, spiritually and through the game of baseball.
Since 2012 David has been working with local little leagues to provide support for a variety of needs. He has extensive experience as an independent evaluator and has facilitated tryouts for Menlo Atherton LL, Alpine LL and Redwood City LL.
To get in contact with David or to inquire about one of these offerings please email david@menloparklegends.com or call 650.387.4427. Thank you and BE LEGENDARY!
Independent Player Evaluation Example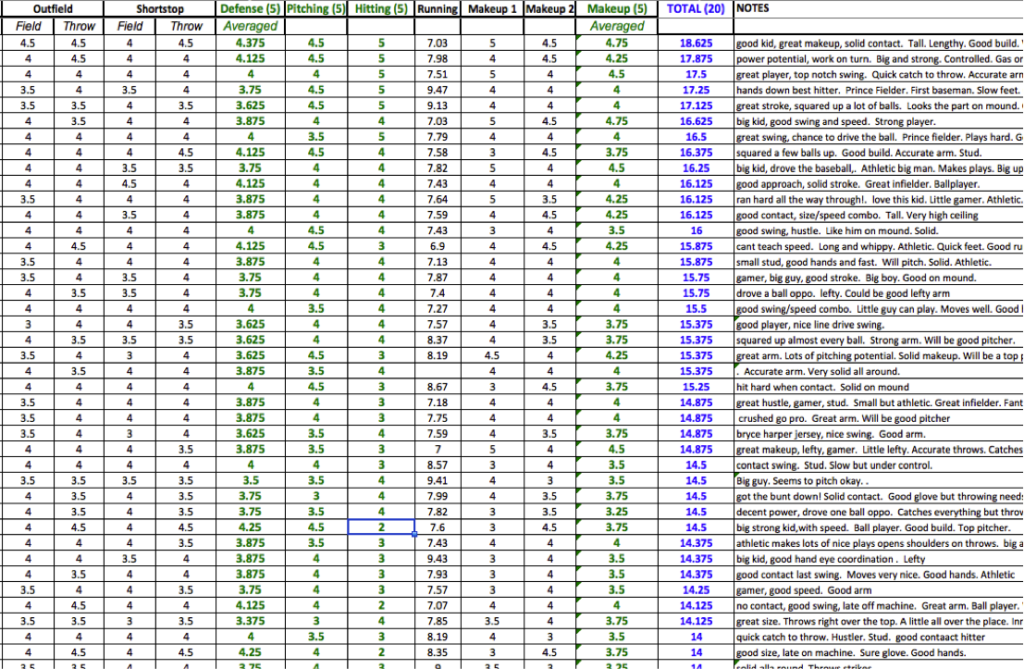 Coaches Clinic Example Flyer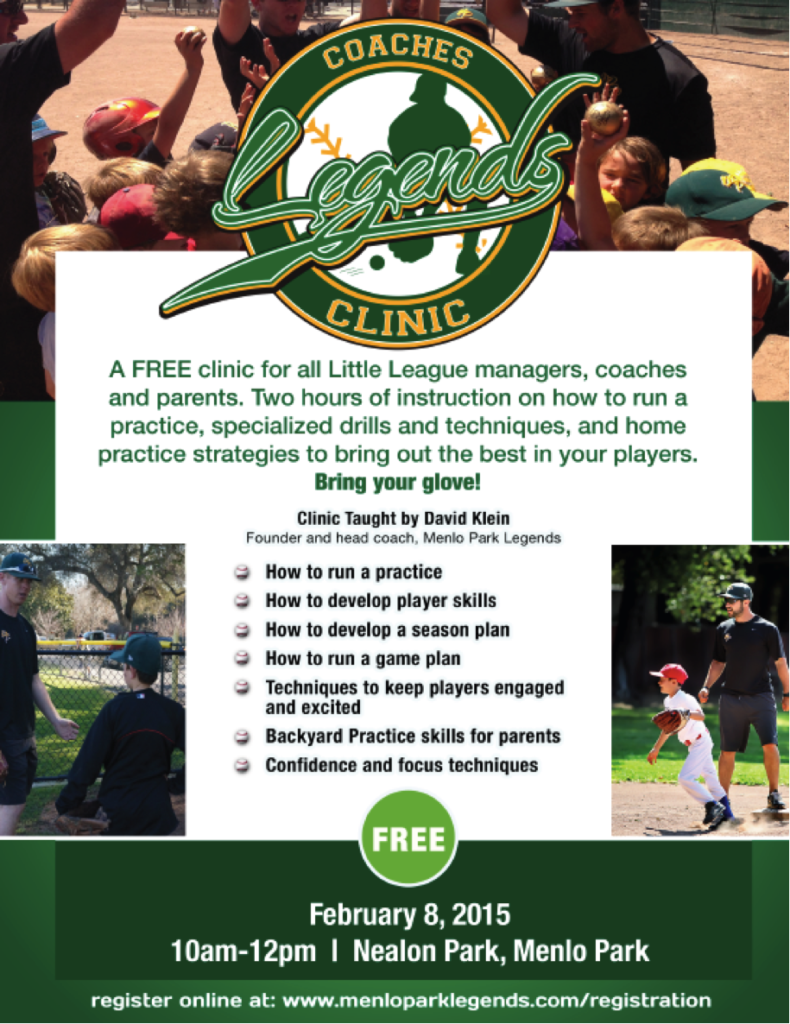 Coaches Clinic Handout Sample (15+ pages)
Includes Practice Plans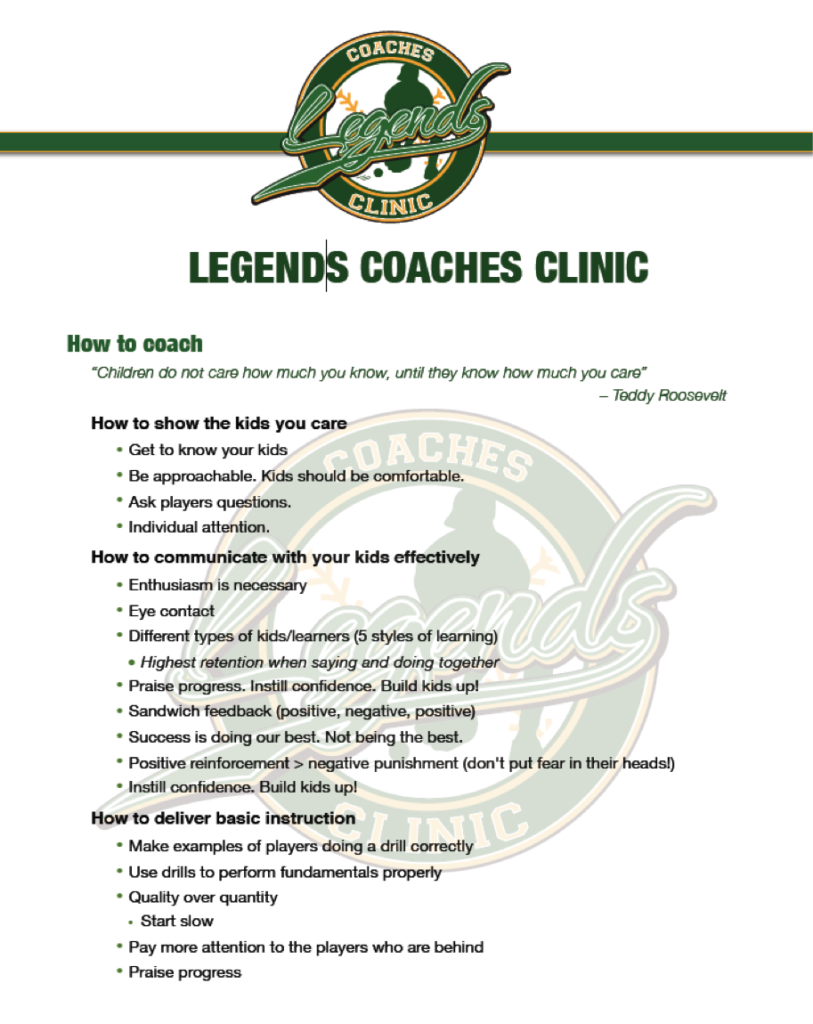 Skills Clinic Sample
Intro to Pitching Clinic
90 minutes
Introduction to Pitching (5 minutes)

Rules and expectations for today

Dynamic Warm up (5 -7 minutes)
Form Throwing (10-15 minutes)

Flips and grips
Bow and arrow
Rock backs
Hop off back leg
Run n Gun
Long toss
Pull downs at 45'

Quarterbacking Drill at 45' (10-15 minutes)
Grip Instruction (5-10 minutes)
Introduction to the Mound (10-15 minutes)

Pitching from the Stretch (3 pitches & practice on side)

Windup Instruction (10 mins)
Review/Q&A (5 mins)