Legends Wreak Havoc on Bases in Opening Day Victory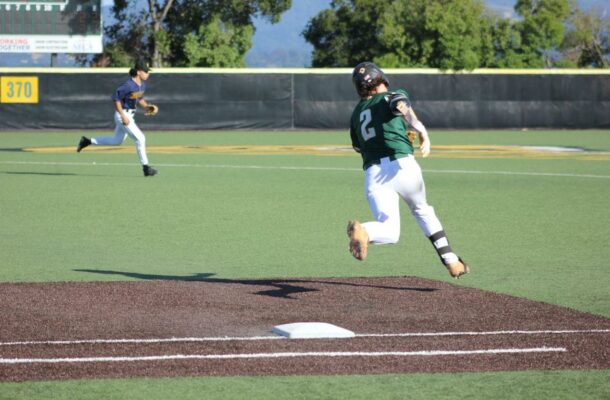 Written By: Jacob Siegel
The Menlo Park Legends ran their way to an 8-6 win over the East Bay Thunder on Tuesday night, starting the season with a win. The Legends swiped 11 bags on the night, with Rowan Felsch (3), Collin O'Driscoll (2), and Cooper Winton (2) all stealing multiple times. Nine pitchers threw an inning for the Legends, combining for 13 strikeouts of the Thunder.
Danny Peters started the season on the bump for the Legends, allowing three runs in the first (one earned) while striking out two batters. Patrick Dixon, Jackson Snitko, and Kevin Pence threw a scoreless inning each following Peters. Jacob Ruiz struck out two while giving up two unearned runs in the 5th, ultimately earning the win.
Mickey Radanovich, Jack ten Bosch, and Fareed Ahmed helped maintain the Legends' lead, allowing only one hit and one unearned run while striking out five over a combined three innings of work, bridging the gap to Zak Sullivan for the save. Sullivan struck out two and worked through a walk to retire the side, with catcher Jacob Froess putting the exclamation point on the win by throwing out Caven Croom at third base to record the final out.
Winton led off the bottom of the 1st for the Legends with a hit by pitch and a steal, ultimately scoring on a double from Nick Thomson. Josh Quinn and Alex Tolbert also recorded hits and runs scored for the Legends in a four run 1st inning.
After Winton reached on error and stole another bag in the second, Thomson drove him in with a triple, his second hit in a three hit day. After the Thunder tied the game 5-5 in the top of the 5th, the Legends put up three in the bottom of the frame behind RBI singles from Antonio Nanez, Peters, and Froess, to take a lead they would never relinquish.
The Legends moved to 1-0 with the win and will be back at it on Thursday afternoon at 1:00 PM at Skyline College, facing the Game Prep Trojans.
Stars of the Game:
⭐ Nick Thomson: 3-5, 2B, 3B, R, 2 RBI
⭐️⭐️ Cooper Winton: 1-3, 2 R, HBP, 2 SB
⭐️⭐️⭐️ Fareed Ahmed: 1 IP, 0 H, 0 BB, 2 K