Wild Comeback Leads To Suspended Game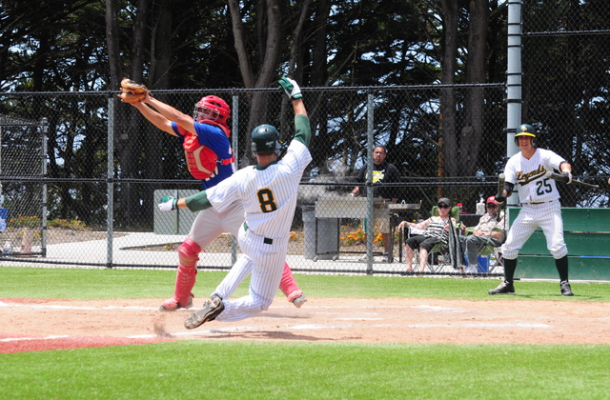 By Vytas Mazeika, of the Palo Alto Daily News
Amid the converging fog at Fairmont Field on Tuesday afternoon, the new ace of the Menlo Park Legends stormed out of the bullpen in extra innings. It was none other than hitting coach Dustin Woodward.
The 2003 graduate of Pleasant Valley in Chico spent time on the mound during his high school days, but Woodward was strictly a catcher in college and hadn't thrown a pitch in a competitive atmosphere for at least a couple of years since departing the semi-pro circuit.
"I think it showed I recruit a coaching staff that can not only coach, but we can fill in and get some work done in the field if something happens like today," said Legends manager David Klein, with a grin.
Woodward, who recently completed his first season as the pitching coach at Menlo College, tossed an uneventful 1-2-3 bottom of the 11th against the host San Francisco Seagulls. But a two-out double to left-center moved the potential game-winning run to third base in the 12th. With the cleanup batter at the plate, Woodward reached back for a nasty slider that catcher Justin Gubser (Canada College) whiffed at for strike three.
"I shook off until that final slider just because I knew that I could throw a better one," said Woodward, who struggled to get bite on his sliders prior to his last pitch. "… I knew that he wasn't going to have a chance to hit it."
Woodward didn't need to return for the 13th inning because the game was suspended. More than four hours after the first pitch, the teams departed with a 10-10 deadlock to be resumed June 26 at Canada College in Redwood City in respect of the teams waiting to play the second part of a doubleheader.
"I was ready to put my gear on," said Gubser, who went 1 for 4 with a walk and hit a sacrifice fly during the Seagulls' six-run rally in the fifth. "But someone said, 'Take your gear off. We're done.' "
"It was a sticky situation," Klein said. "But the goal with summer baseball across the board is to get the games in and get guys better. And it would have been unfair for us to continue."
The 12-inning affair already ranks as the longest game in the five-year history of the Legends, who were short on arms after playing four games in three days over the weekend. Three more arms are set to join the team Thursday.
"I'm confident that later in the summer, we won't have to throw coaches," Klein said.
Trailing 10-3 after seven innings, it didn't look like the Legends would have to worry about such drastic measures. But when speedy center fielder Brandon Coborn was thrown out at home plate seeking an inside-the-park home run, the setback seemed to spark the Legends.
"I think regardless of the outcome of that hit, if he was safe or he was out, whatever happened there fired us up," Klein said. "And it got us some momentum going into the last innings."
The next three hitters walked, prompting a pitching change. After a fielder's choice scored a run, Skylar Brewer (Menlo-Atherton) ripped an RBI single, Justin Bard plunked a two-run single to center and Logan Trowbridge (College of San Mateo) doubled to left to make it 10-8.
The Legends tied it in the top of the ninth when Coborn, who went 4 for 6, led off with a single and came around to score on a double steal. Kyle Zirbes (M-A), who was hit by a pitch and stole second, moved to third on a single by designated hitter Danny Miller, who delivered a two-run single during a three-run rally in the third that included Zirbes getting plunked with the bases loaded.
Catcher Ian Josh dropped a suicide squeeze to complete the comeback as Zirbes stepped on the plate with no throw. But the Seagulls avoided a total collapse when left fielder Scott Ericksen gunned down a runner at home attempting to score on a sacrifice fly to end the top of the ninth.
"We did a good job of fighting through and staying positive," Gubser said. "We're a young team, so we're just starting to learn how to play with each other. By the end of the year, it should be a fun team to watch."
The Legends turned to Andrew Herrera (CSM) for scoreless frames in the ninth and 10th. But since he's slated to start on the mound later in the week, the team had a dilemma.
"We knew he was only going to be able to go two (innings)," Woodward said. "So I kind of volunteered, and Dave told me in the eighth inning to go start playing catch."
Woodward's final line: 2 innings, 2 hits, 0 walks … and that strikeout.
"I definitely felt the love while I was out there," Woodward said. "I just wanted to prove that I could throw strikes. I knew that I have in the past, but I was hoping that I wouldn't come in and walk the house, because then I couldn't have a whole lot of credibility."
But will the new ace of the staff return to the mound again when play resumes in three weeks?
"I told Dave right after the game, 'I want the rest of this,' " Woodward said.