Legends Sweep Marysville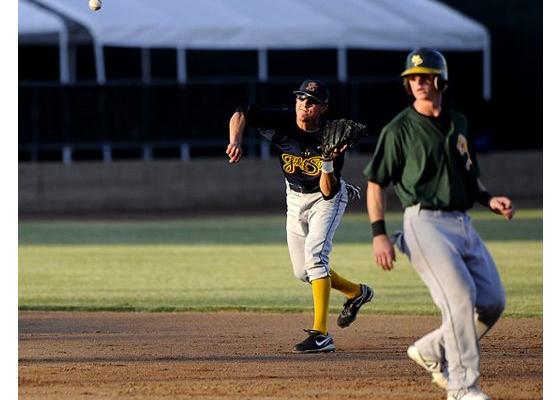 Story By Andy Arrenquin of the Appeal-Democrat, Photo by Nate Chute of the Appeal-Democrat
Even with a game-time temperature of 106 degrees, 2,003 fans still managed to file into Appeal-Democrat Park for the sixth annual Faith Night.
Two-time National League strikeout leader J.R. Richard took the microphone as the evening's guest speaker before the game, so it was only fitting that pitchers for both the Marysville Gold Sox and visiting Menlo Park Legends put up zeros once the game started.
Finally, after nine innings of stellar pitching, the Legends broke through by stringing together three hits to push across a run in the top of the 10th inning to hand the Gold Sox a 2-1 loss on Friday night.
Ryan Anderson started the game for Marysville (8-2) and was dominant once again — albeit in a short outing.
Anderson pitched the first three innings and allowed just one hit, striking out seven in the process. He fanned the final six batters he faced, stretching his scoreless innings streak to 14 on the summer.
Brett Humphries pitched the next three innings and gave up the game's first run in the fourth, and two Legends pitchers made the 1-0 lead stand until the seventh when the Gold Sox finally scraped together a run.
Shaun Mize drew a walk to lead off the inning and moved into scoring position when Jacob Hayes reached on an error. Steven Lozier followed with a single down the first-base line and Mize raced home to tie the game.
Marysville had a chance to break the contest open and take the lead, but relief pitcher Tyler Rios struck out three straight batters to leave runners stranded on second and third.
Nick Hudson pitched the final four innings for Marysville and allowed just one hit until Menlo Park (5-1) rallied in the 10th for the game-winning run.
Charles Wagner had two hits in his Gold Sox debut, Lozier and Hayes both finished 2 for 4, and Riley Drongesen hit a pinch-hit double in the eighth to provide the offense for Marysville, which had eight hits in the game.
The Gold Sox left at least one batter on base in all 10 innings and stranded 13 for the game.
It was the second straight loss for Marysville, which will begin a two-game series against the San Francisco Seagulls tonight at 7 p.m.
The Legends are back in action today as they play a doubleheader against the Sacramento M's at San Juan HS in Citrus Heights, CA. First pitch is at 2pm.