Legends Pre-Season Clinics
Updated: January 11, 2015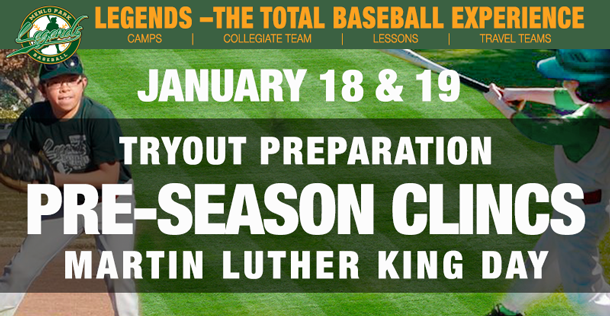 January 18: Tryout Preparation
This three hour clinic will focus on building skills and confidence so your child is prepared and ready for a legendary tryout! Only $10! 10am-1pm
January 19: Martin Luther King Day Clinic
A full day clinic to get you off to a Legendary 2015! 9am-3pm
All clinics at Burgess Little League Fields in Menlo Park
---
Full Pre-Season Camp and Clinic Schedule
NEW! January 18: Tryout Preparation– 3hr clinic only $10! Includes free t-shirt.
January 19: Martin Luther King Day Clinic
NEW! February 8: Coaches Clinic: A FREE clinic for all Little League managers, coaches and parents. Two hours of instruction on how to run a practice with specialized drills and techniques to bring out the best in your players. Bring your glove!
February 16: Presidents' Day Clinic
NEW! February 17-20 / April 20-24: Legends Pre-season Experience Camps
---
The Legends Total Baseball Experience! The most unique and fastest growing Bay Area baseball camp coached by the Legends semi-pro team. Learn from the best collegiate baseball players from across the country. Our famous 5:1 ratio means tons of individual attention for your child. Your child will interact with enthusiastic and knowledgeable college baseball players who travel across the country to play on the Menlo Park Legends semi-professional team. Private and small group instruction, along with our innovative coaching program combining drills, games and exciting contests are to ensure your child is building confidence and having a legendary time while simultaneously developing their baseball skills. There is no Peninsula baseball camp that is anything like the Legends Baseball Experience!