Legends Hitting Their Stride After the First Month of the Season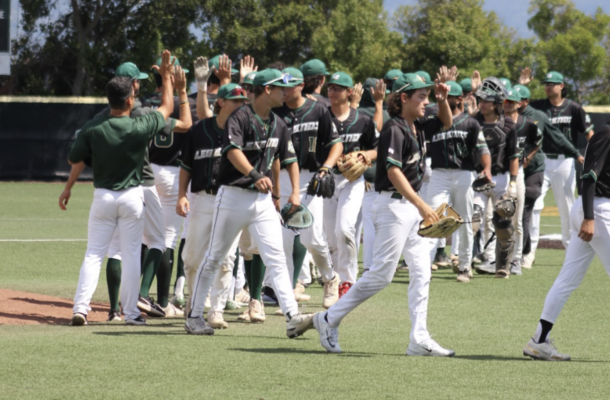 Written By: Jacob Siegel
The Legends have played about a month of baseball so far this summer, in a season featuring many ups and downs. They have a league record of around .500 and have played some tough but exciting non-league matchups. While different players have stepped up at different times to help the ballclub win games, a few players stand out in the stat sheet for their contributions thus far. 
Although neither player has as many at-bats as some of the team leaders, Jaden Mingus and Danny Peters both have an OPS over 1.000. They are doing it in different ways, with Mingus getting on base at a .517 clip with eight singles and a home run, while Peters has a batting average of .438, and, although walking less than Mingus, has three extra-base hits. One of the Legends' best hitters has a .953 OPS and is the only player on the team who has a single, double, triple, and home run. That player is Nick Thomson. The utility player has been remarkably durable, leading the team in games played, plate appearances, and at-bats. Thomson says the keys to his success are "staying relaxed in the box and staying selective from both sides." Thomson, a switch hitter, is also second on the team with 10 steals and hasn't been caught once. He says that this aggression on the bases is a team mentality, as the "team has done a great job. . .taking a lot of extra bases when we get on." 
Stealing bags has absolutely been a team-wide philosophy this year, with 16 guys having a steal to their name and eight of them stealing at least five. Josh Quinn, the team leader with 13 stolen bases, says that this team "is a fast group of guys, and the coaches. . .have a lot of confidence in us as baserunners." That confidence is very well placed, as the Legends are aggressive and efficient stealing bases, with a success rate of 89.25%. Ultimately, the Legends' offense has been strong, as the team slash line is .267/.388/.339, a line even more impressive considering the 83 bags stolen once on the bases. 
While the Legends' offense has been solid, it is only part of the story. The pitching staff, led by pitching coach Cole Mauter, has grown a lot throughout the season and is gelling as the summer goes by. As Mauter explains, "Each member of the pitching staff brings a different background, a different experience". There are a lot of different types of pitchers that make up the Legends' staff, from 6'8" righty Derek Murphy, who throws over the top, to 5'11" lefty Fareed Ahmed, who throws from a low ¾ arm slot. Ahmed, who just graduated high school, has been one of the best arms for the Legends thus far. He has thrown in six games for the Legends, starting one, and is yet to allow an earned run. Through 10⅓ innings, he has allowed a measly 11 baserunners, surrendering only seven hits and four walks. He also has 19 strikeouts on the season. Ahmed attributes much of his success to his mindset on the bump. He says "There's one rule I try to follow every time I pitch: no free 90s. No walks, no stolen bases, and no errors on my behalf." Ahmed has averaged less than one free 90 an inning, something that has been vital to his success as a shutdown reliever.
While the staff has often been strong, there have been some outings where a pitcher couldn't find the zone. In many of those scenarios, Jackson Snitko has been the guy to come in to stop the bleeding and give the team some length out of the bullpen. Snitko has not yet started a game but has thrown 13⅓ innings in his five relief appearances. Although a big strikeout pitcher, with only 10 strikeouts on the year, Snitko has found success on the bump by inducing weak contact and trusting his teammates. He said his mindset on the mound is to "convince [himself] that [he's] the best ever," and that mindset has worked for him in tough situations. By having a diversified bullpen and a plethora of starters including Mickey Radanovich, Kevin Pence, and Ari Kligman, Mauter and Head Coach Nick White have a lot of ways to plan out their pitching to put players and the team in the best position to succeed. 
One thing that many players on the team point to as a reason for their success so far is the relaxed but connected vibe of the team. Pitcher Malcolm Hsu, who also played with the Legends and Coach White last summer, said he "rejoined the Legends because of the amazing team culture and the way the team is run." Hsu is not alone in this sentiment, as multiple other players returned from last summer to play. Additionally, Mauter has lots of praise for Coach White, saying that he "[creates] a culture that is positive, healthy, and much needed in the baseball community." White's laid-back vibe seems to be doing wonders for the team, as Snitko says that "every dude. . .on the field and in the dugout is family". 
As the team continues to grow closer to one another and builds chemistry on and off the field, the players are looking forward to finishing the season strong and making a playoff push. Thomson says that the team will "continue to succeed if we play our type of game", and that is exactly what they will look to do behind a deep pitching staff, some power from the lineup, and lots of steals.