Legends Collegiate Summer Team Returns to the Diamond In 2022
Updated: October 13, 2021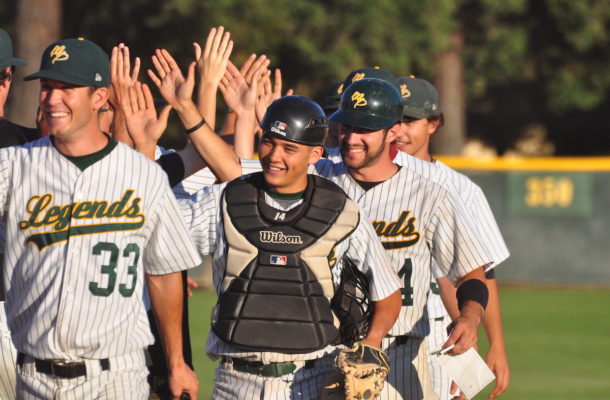 After a five year hiatus, the Menlo Park Legends Collegiate Summer team will return to action in the Bay Area Collegiate League!
In a long-awaited decision to bring the "boys of summer" back to Menlo Park, the team is now in the process of building it's roster for the summer of '22. The Menlo Park Legends will be coached by Menlo College Assistant Baseball Coach Nick White and will play home games at both Menlo College and Canada College.
The team has a rich history of showcasing talent and providing an opportunity for players to hone their skills as they move to the next level. The Legends have produced 50 professional players including 2 Olympians and 3 Major Leaguers. That number is expected to steadily increase from year to year now that the club is "back in the swing of things!"
Playing collegiate summer ball has become a crucial element in developing as a player. All major programs have coaches either assign players to specific leagues, or the players have to find roster spots on their own in any one of the many summer leagues that dot the continent. Point of fact, most summer rosters are determined by the end of October the previous year!
With current travel restrictions, the cost of living, and even gas prices, Bay Area ballplayers now have the opportunity to compete against great talent from D1-NAIA, maybe even work a summer job, and save money by living at home, while improving their skills before Fall practices begin at their respective institutions.
Our exciting summer schedule includes road trips to Healdsburg to play the PrunePackers, Marysville to play the Yuba-Sutter Gold Sox, and Humboldt to take on the Crabs. Other announcements are soon to follow!
The 2022 Menlo Park Legends Collegiate Summer team provides an opportunity…
​​To compete with and against the best collegiate ballplayers in the Bay area
For JUCO players to be recruited by 4-year schools
For players to be scouted by professional ball clubs
To develop your skills and gets tons of playing opportunities
To save money while living at home and training locally
To build friendships, camaraderie, and networks that will last a lifetime
Want to play for the 2022 Legends? Contact Head Coach: nick@menloparklegends.com.