Legends Sign 4 From Dartmouth
Updated: January 22, 2013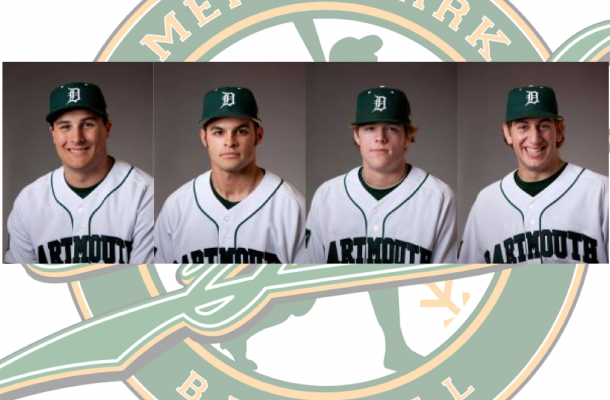 The Legends would like to announce the signing of 4 players out of Dartmouth.
Mike Dodakian is joining the Legends from Dartmouth via Roxbury Latin School.   Mike is from Walpole, Mass but should quickly adjust to California Life. As a sophomore in 2012, Mike had a 15 inning stretch of not allowing an earned run, and earned his first save against Amherst.  He finished with 19 appearances and 3 saves.As a freshman, he appeared 15 times and garnered a 3 and 1 record with a save.  His batting average against was .233.Mike was a three sport athlete at Roxbury Latin.  He was first time all-league his junior and senior seasons.  He had a 5-1 record and two saves.  He was captain his senior year a hit .405 with 2 homers and 12 rbi's in 42 at-bats.
Matt Robinson joins the Legends after an outstanding 2012 freshman year at Dartmouth.  His .424 average was the highest in the Ivy League for any player with more than 10 at-bats (85).  He had 2 hits in 13 games and a 3 hit game against Harvard.  He went 4 for 6 with an rbi against LSU. He went 4 for 11 against Cornell in the Ivy Championship Series.
Matt earned three varsity letters in baseball and football at Parkway Central in St Louis.  He hit .379 with 3 hrs as a junior and overcame an injury plagued senior season.  He is a member of the National Honor Society.
Matt's mother and uncle played soccer at University of Virginia.  Majoring in government in preparation of a law degree.  Matt is an avid hunter.
Chris England comes to join the Legends from Dartmouth College.  In his freshman year he earned a win against Hartford and won his first start against Boston College.  He finished 2012 with a 2-0 record. Chris was a three year varsity player at Spanish River in Boyton Beach, FLA.  He was named Pitcher of the Year as a junior.  He is a member of the National Honor Society.  He is considering an economics major and enjoys time on the beach.
Adam Frank joins the Legends after a strong 2012 freshman year at Dartmouth.  He tied for the team lead in wins (4) and had the lowest batting average against.  Pitched 10.2 strong innings against Brown and Yale, without a walk, to help the Green to victories.  Threw five plus innings in the decisive game of the Ivy Championship Series. Adam was a three year letter winner at Williams Field.  He was all-state honorable mention as a position player as a junior and as a pitcher as a senior.  He was president of the Physics Club.  Batted .343 in 70 ab's as a senior.  Posted 4 wins as a senior and had 12 K's against Seton Catholic and 11 versus Campo Verde.
The Legends and their host families are eagerly awaiting for their arrival in the Bay Area!