2014 Summer Schedule Released
Updated: December 9, 2013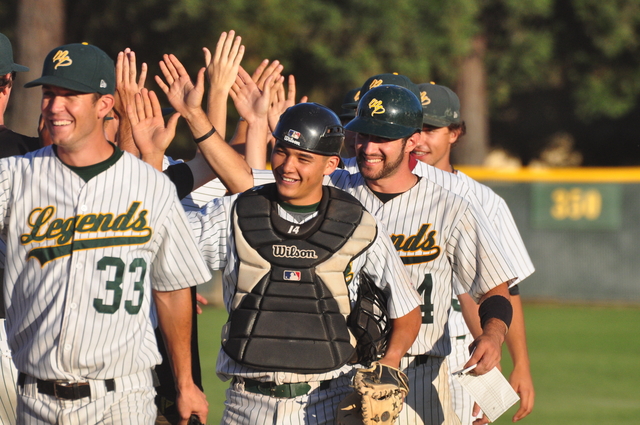 A challenging 2014 Legends summer game schedule was announced by General Manager, David Klein this past week. "This is by far our most competitive schedule in our 5 years of competition. By playing these prestigious programs, we will be competing in the national spotlight all summer long and are giving our players the best possible experience."
The Legends will play road series against, the Palm Springs Power, the Marysville Gold Sox, the San Luis Obispo Blues, the Humboldt Crabs and the 4 time NBC World Series Champions – the Santa Barbara Foresters. This challenging schedule includes series against 4 teams who were nationally ranked in the top 25 by Perfect Game in 2013.
Now playing in the highly regarded California Collegiate League, the Legends will kick off their summer with a long road trip to the southern California desert to face off against the Palm Springs Power in non-league play.  The heart of the summer consists of consecutive weekend road trips to San Luis Obsipo and Santa Barbara to play against some of the best talent in the country.
The Legends will be competing in the newly formed northern division of the CCL. The division consists of the Walnut Creek Crawdads, Neptune Beach Pearl and the Pacific Union Financial Capitalists. With 8 games versus each northern opponent – 3 games versus Santa Barbara, 3 games versus San Luis Obispo and 2 games versus the Conejo Oaks (owned by Anaheim Angels Manager, Mike Scioscia), the Legends will be competing in a 33 CCL games (not including playoffs). A complete schedule of 45 games will be played with non-league competition including road trips to Humboldt, Marysville, Auburn and Palm Springs.
The annual CCL All-Star game is broadcasted in Fox Sports and will take place at the MLB Urban Youth Academy in Compton, California on July 16th. Culminating a busy summer, the CCL playoffs will take place in San Luis Obispo at Sinsheimer Stadium on July 31 – August 2nd.  Advancing to playoffs will be 4 teams, made up of the top team in each of the 3 divisions, as well as a wild card team with the best overall record.
The Legends roster is near complete with players signed from all over the country. Division 1 schools such as Santa Clara University, Cal Poly, Cornell and others have placed players with the Legends. The 2014 Legends roster already includes 3 previous All Americans as well as some of the premier junior college players in all of California.
Stay tuned for more Legendary news! See you in 2014!