Suspended Game and Normal Game go to the Legends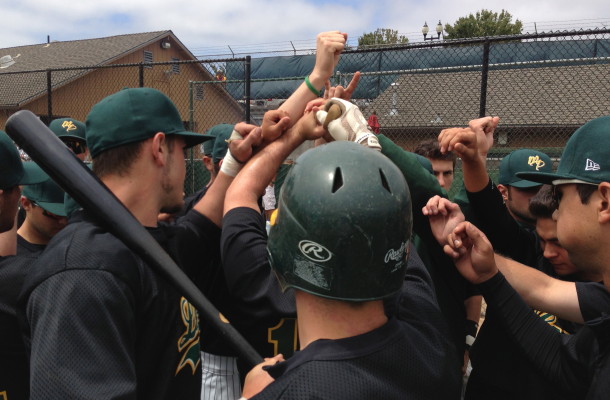 The Menlo Park Legends waited 21 days to capture a 13 inning victory against the San Francisco Seagulls and then waited until the bottom of the 9th to secure a comeback win in their regularly scheduled game to complete a unusual sweep at Canada College. The wins pushed the Legends record to 13 and 8.
The suspended game had an assortment of oddities with hitting coach Dustin Woodward pitching and eventually being awarded the win. Reliever D J Zapata (Santa Clara) came in to complete the bottom of the 13th and record a save for the Legends. A strike out, throw out at second base ended the final hopes of the Seagulls who refused to go down quietly. Brandon Coborn (Feather River College) had walked, stolen second and scored on a Geo Saba (Stanford) pinch hit single to give the Legends the lead in the top of the 13th.
Game two began with Zapata starting for the Legends and having the rarity of pitching the bottom of the last inning for the visitors and top of the first of game two for the home team. Mitch Ravizza worked a bases loaded walk in the second for the Seagulls to take the lead. A Brandon Coborn grounder scored Luke Pappas (Stanford) to tie the game for the Legends in the third.
Gino Franco, Anthony Clifford, Ravizza, and Eren Miravelles all singled to produce two runs in the fourth, but the Legends answered with two runs of their own on singles by Danny Miller, Zach Hoffpauir and Pappas. Brandon Coburn blasted a homerun to give the Legends the lead after five innings.
The Seagulls soared with three runs in the sixth to retake the lead before Danny Miller blasted a two run homer following a Kyle Zirbes double to tie the score in the bottom of the eighth. Andrew Herrera worked a scoreless top of the ninth for the Legends and thoughts of another extra inning battle must have been creeping into the minds of players on both teams.
Zach Hoffpauir tripled to deep right to start the Legends ninth and Ian Josh singled to send the home team rushing out on the turf to celebrate.
The Legends face the San Francisco Seals Friday June 28th at 5:00 at Canada and again on Saturday June 29th in a noon doubleheader at Canada.