Menlo Park Players become Legends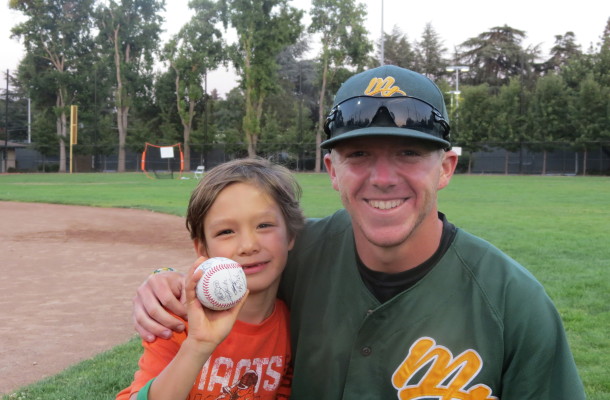 Manager David Klein started his Menlo Park Legends team five years ago with a goal of creating a competitive wood bat baseball team and something much more. He wanted to create an organization that helped give back to the community where he grew up and teach his players the importance of helping prepare others on their baseball and life journeys.
Saturday night, the Second Annual Legends Village held at Nealon Park was another sign that Klein has been successful in reaching his goal. The event featured the current year's Legends players interacting with many of the campers and families that have attended the Menlo Park Legends baseball camps. There was food, carnival games, music, raffle prizes, a homerun hitting contest and an auction. The proceeds from the event provides programs for underserved youth from Menlo Park, Redwood City, East Palo Alto, Portola Valley, Woodside, San Carlos, Los Altos, Atherton, and Mountain View. Klein said that the Legends Village has given about 20 free camps and private lessons in the community. Most important was the laughter of all the people having fun.
The Legends have been selective in the players they invite to their summer roster and created a team that is not only successful on the field but also exhibit the traits of being fine young men in our communities. Proof of the Legends on field success has been their winning record and that players Grant Nelson, Tyger Pederson and Brent McMinn were selected in the 2013 MLB draft. This is not as important to the Legends campers as it is to David Klein, Skylar Brewer, Dustin Woodward and others who have spent hours teaching baseball and sportsmanship, sharing stories about their lives, and helping create a special week for the boys and girls. It is certain that the campers will tell stories about these Legends for years to come.
The Legends suffered a tough Sunday at USF dropping a doubleheader to the California Warriors 10 to 1 and 2 to 1. Andrew Herrera was outstanding in pitching six innings in the second game, allowing 1 run on three hits before the Warriors scored a walk-off win in the bottom of the seventh. Logan Trowbridge and Ian Josh collected multiple hits on the day. The Legends try to keep their playoff hopes alive when the meet the Warriors again on Wednesday July 24th at 5:00 at Canada.