Legends Take Series Opener from Seals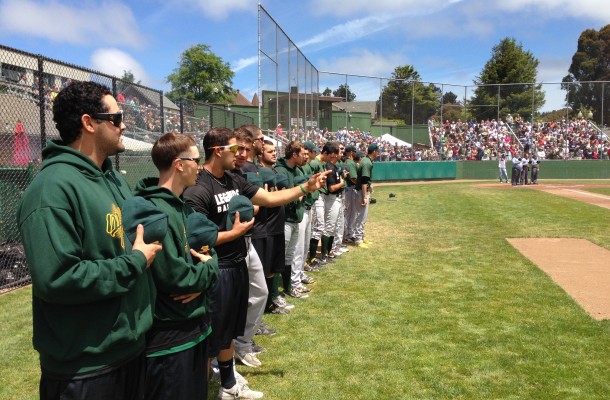 Manager David Klein continues to age quicker than he should be as his Legends followed their seemingly routine formula of falling behind early before rallying for a win. The latest example was their Friday 8 to 4 victory over the San Francisco Seals which extended their current winning streak to five games.
Starter DJ Sharabi (CSM) surrendered a walk and two doubles to let the Seals take an early first inning 2 – 0 lead. Zach Hoffpaiur (Stanford) reached on an error and eventually scored on a Kyle Zirbes sacrifice fly, but the Seals added another in the second on a double by Johnson and rbi single by Furia. The Legends answered with a run in the third on a walk to Dane Vande Guchte (CSM) and rbi single by Hoffpaiur. The Seals added to their lead with a single by Coffin-Lennear and rbi ground out by Valentin to maintain a 4 to 2 lead halfway through the fifth.
The Legends took control of the game in the bottom of the fifth. A single by Justin Bard (St John's U), walk to Vande Guchte, double by Hoffpaiur, walk to Zirbes, Danny Miller (Mission College) hit by pitch and two rbi single by Geo Saba plated four runs to flip the game to a 6 to 2 Legends lead. Justin Bard added a homer in the seventh while Logan Towbridge (CSM) and Vande Guchte singled for a run in the eighth.
Sharabi battled through six innings to record the win and Laurens Ole pitched three nearly perfect inning of relief to get the save. Zach Hoffpaiur continued his hot hitting with three hits in the game while Geo Saba and Josh Bard each had two hits and two rbis. The Legends face the Seals again today in a doubleheader at Canada starting at noon.