Legends Take Opener vs. Warriors in last FWL Game before Fundraiser!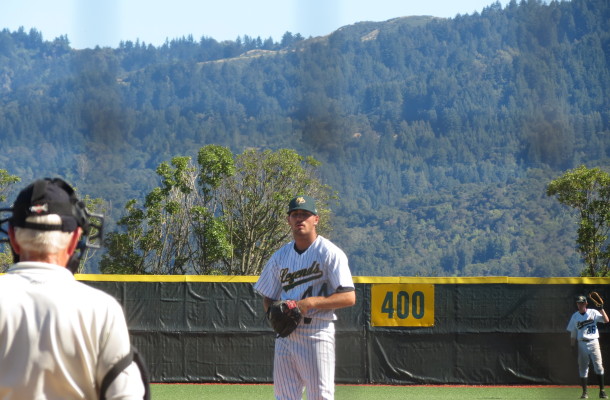 The Menlo Park Legends entered the crucial last two weeks of the season with eight games in twelve days against two of the teams they are battling for a playoff spot in the Far West League. Manager David Klein had to be pleased with a solid 8 to 0 victory against the California Warriors. The win moved the Legends ( league 10- 11, overall 19 – 17) into a tie with the Warriors for the final league playoff spot.
Legends starter Nick Medeiros (Santa Clara) was outstanding with five two-hit innings to set the tone for the game. Medeiros, a Bellarmine grad, appeared to be in total control of his arsenal of pitches as the Warriors were off-balance in most of their swings. Tyler Rios threw two solid innings; allowing only a hit and a walk. Andrew Herrera (San Jose State) and DJ Zapata (Santa Clara) finished off the final three innings.
The Legends offense scored in each of the first four innings. Danny Miller (double and homerun, 2rbi) and Matt Glomb (triple and homerun, 3 rbi), while Kyle Zirbes also had two hits and an rbi. Despite averaging over seven runs over the weekend, The Legends had missed Glomb (Santa Clara) and cleanup hitter Geo Saba (Stanford) in their weekend series against Top Speed Baseball and look forward to their presence in the middle of the lineup.
Warrior catcher Francis Christy did not get much help from his pitchers as the Legends stole nine bases led by Logan Trowbridge (3), Zirbes (2), Zach Hoffpauir(2),Dane Vande Guchte and Danny Miller. Christy is a graduate of Casa Grande HS. Local Cameron Merriwether 2b/ss played for Menlo College.
The Legends play the Auburn Wildcats Friday at Canada at 5:00 before heading to Evans Diamond on Sunday for a noon doubleheader against the Warriors. The Warriors include local players Michael and Thomas Peterson (St. Francis), Jack Stinn (St. Ignatius), Jarrett Costa and Kailen Robinson (CSM) and Manny Ramirez Jr (IMG Academy, Miami, FL).
The Menlo Park Legends Village fundraiser; their second annual community together for a charitable cause, is on Saturday, July 20, at 5 p.m. at Nealon Park in Menlo Park. The event raises funds for the Legends Village, which provides baseball programs to underserved youth who can benefit from clinics, a mentorship program and free camps. About 150 people attended last year's event, and the program raised nearlyt $3,000 for a variety of programs for kids. The money from the event will provide programs for underserved youth from Menlo Park, Redwood City, East Palo Alto, Portola Valley, Woodside, San Carlos, Los Altos, Atherton, and Mountain View. Klein, inspired by positive experiences with baseball as a child, said that the Legends Village has given about 20 free camps and private lessons in the community. Klein has also done free baseball camps overseas in Israel.
"Last year, we had a lot of team members' families come, as well as other followers who have been with the Legends for many years," said David Klein, the Legends general manager and camp director. "It was an absolutely fantastic event and I'm looking forward to learning from it and making this year even better."
The fundraiser will have baseball-inspired carnival games, live music by Leviathan, a home run derby with Legends players, autograph signing, a raffle, a live/silent auction, and a Hawaiian barbecue-style dinner. Everyone who attends is invited to participate in the pick-up style softball game at the end of the night with Legends players.
This fundraiser is not the only event in which the Legends program interacts with the youth community. For the past five years, the program has hosted Legends baseball camps in June and July at both the Burgess Little League Field and Nealon Park. The summer camps include coaching from players on the Legends, as well as a chance to get first-hand experience with the team during the coaches' semi-pro games at night. Players ages 6 to 12 are invited to hang out in the dugout during games, throw the first pitch, announce the starting lineup, be a batboy and run after foul balls during games. The Legends Village fundraiser is $10 for children 12 and under and $15 for general admission. Admission includes food and activities. All the proceeds go to Legends Village. Nealon Park is at 800 Middle Ave. in Menlo Park.