Legends Take 1 of 4 against Top Speed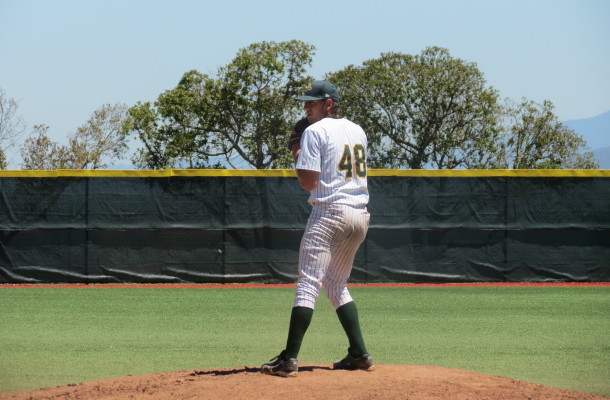 The Menlo Park Legends were unable to slow down Top Speed over the weekend and need two good series over the next weekends if they want to secure a spot in the 2013 Far West League playoffs. Despite getting some outstanding performances, the Legends dropped 3 of 4 games over the past weekend. The Legends averaged nearly eight runs a game, but Top Speed scored 43 runs and hit .389 for the series. Mark Hurley ( Cal State Monterey/CSM) was 10 for 17; while Alex Sortwell (Ashland Univ/Aragon) was 7 for 13 with 6 rbi's for Top Speed.
Mike Dodakian (Dartmouth) provided the brightest highlight with a seven inning complete game 12 to 4 victory on Saturday Dodakian scattered 5 hits and struck out 8. Alex Sortwell touched him for a double and a homer, but the other Top Speed hitters seemed overmatched. Danny Miller (Mission College) and CJ Jacobe (Santa Clara) blasted homeruns to pace the Legends attack. Logan Trowbridge, Kyle Zirbes, Luke Pappas and Justin Bard all had hits and scored runs.
D J Zapata (Santa Clara) balanced on a tightrope for five innings, scattering hits all over the field; but induced two groundball doubleplays to keep Top Speed scoreless. Top Speed finally broke through in the sixth and added runs against Steven Miller (2 innings) and Tabor Watson (1 inning). Dan Vande Guchte (CSM) had two of the four hits for the Legends and Ian Josh drove in a run.
Top Speed came out swinging Saturday morning and pounded out 21 hits to score the most runs against the Legends in their five year history for a 21 to 5 victory. Andrew Herrera (San Jose State), Shane Turner, Luke McCreesh and Adam Frank were all treated rudely by the Top Speed hitters. Danny Miller and Justin Bard each homered for the Legends. Former Legend Danny Chavez went seven strong innings for Top Speed.
The final game of the weekend was the toughest for the Legends to handle. DJ Sharabi (CSM) was outstanding for five innings and the Legends built a 5 to 0 lead. After Top Speed tallied 2 in the sixth, the Legends answered back to retain a 7 to 4 lead. Top Speed raced for four runs in the eighth and thought they had the game until Brandon Coborn (Feather River College) hit a dramatic 3 run homer to put the Legends back in the lead 10 to 8. Top Speed worked their way to three runs and an 11 to 10 victory. Antonio Freschet belted his first homerun for the Legends but Mautner, Gleason and Packard all smashed hr's for Top Speed.
With four games left with the California Warriors and three with the Neptune Beach Pearl, the Legends have the opportunity to fight their way into the final playoff spot. The first Warrior's game is Wednesday July 17th at Canada at 5:00 pm.