Legends stun host Humboldt in Far West League playoffs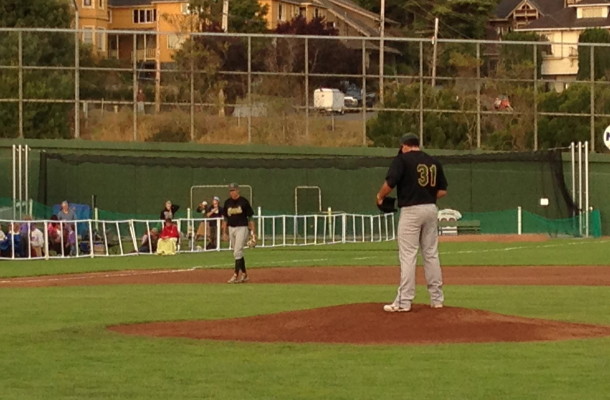 By John Reid of the Palo Alto Daily News
Menlo Park righthander Andrew Herrera likes to pitch at Arcata Ball Park, home to the Humboldt Crabs of the Far West League. Herrera threw seven strong innings on Friday night, carrying the Legends to a tense 2-1 victory over the Crabs in the first round of the four-team Far West League playoffs.
The Legends (23-21) play Top Speed Baseball of Marin today at 3 p.m. A win vaults the Legends into Sunday's title game at 1:30 p.m. holding the hammer. Should the Legends lose to Top Speed, they'll play at 10 a.m. on Sunday.
"This was one of the biggest wins I've ever had with the Legends," said Legends manager David Klein, who founded the Legends five years ago. "The game was a nail-biter. We gutted it out."
Herrera, out of the College of San Mateo, fanned 10 Crabs, who had eight hits as a team.
"I used my fastball and my splitter to keep them off balance," Herrera said. "My catcher, Ian Josh, and I watched what they were doing in the early innings and we made adjustments. I worked them in with the fastball, then threw my off-speed pitch to keep them honest. I like pitching in this park. I've pitched here four times now."
"Herrera has always pitched well in this park," Klein said. "That's why I sent him out there. He did exactly what I wanted him to do."
Mike Dodakian, who pitched at Dartmouth, worked a precarious final two innings to record the save, striking out two.
Dane Vande Guchte, who played at CSM, scored both Legends runs, both unearned. Vande Guchte scored a run in the first inning when a throw got away on the infield. The winning run was scored in the top of the eighth when the Crabs muffed a potential inning-ending double play on a ground ball hit by Danny Miller. Kyle Zirbes had two of the Legends' six hits.
The Legends' victory stunned the hometown crowd, which comes out in droves to support their team.
"I like the crowd here," Herrera said. "It fuels my fire. They come out to see good baseball. It felt good to beat the Crabs."
In the other first-round game, Top Speed defeated the California Warriors of Berkeley 8-6.