Legends Struggle Again on the Road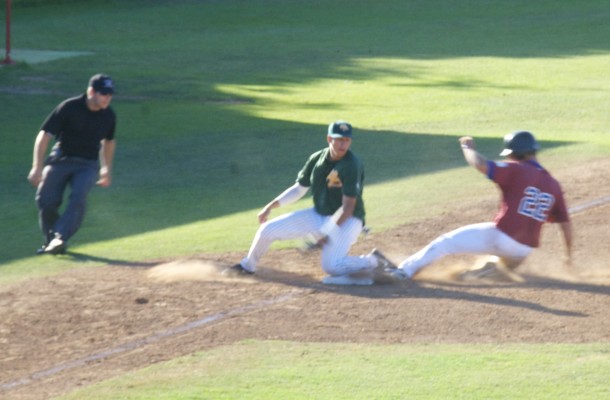 The Menlo Park Legends' road woes continued over the weekend as they played hard but lost three games to the powerhouse Santa Barbara Foresters and two to the Conejo Oaks.
Menlo Park traveled down to Santa Barbara on Friday afternoon and gave Tim Willittes the ball to kick off the series. Willittes was effective through the first five innings, tallying six strikeouts and surrendering only two runs on a home run by Foresters' first baseman A.J. Balta, but ran into trouble in the sixth, when he gave up five more runs and was eventually relieved by Parker Swindell. The Legends' bats were silenced in the opener, as Jon Woodcock, Lucas Benenati, and Dalton Brown shut out Menlo Park and secured a 9-0 victory for the Foresters. Trevor DeMerritt provided the lone Legends hit and continued to wreak mayhem on the basepaths, adding two more stolen bases and bringing his Legends-leading season total up to 16.
Saturday's game, from a pitching standpoint, was nearly the same as Friday's. Zach Grotz allowed two runs over the first five innings but could not get out of the sixth, conceding a total of seven earned runs on eight hits in 5.1 innings. New Legends recruits Colton Landreth and Josiah Julagay combined to pitch 2.2 innings, striking out a couple Foresters and giving up three runs. Menlo Park was able to muster some offense in game two, scoring five runs in the eighth. Dylan Cook and Jordan Winawer both went 2-4 with a run scored and Cook, DeMerritt, Ryan Drobny, and Logan Trowbridge all had RBIs in the 11-5 loss.
Michael Chavez started the final game of the Santa Barbara series for Menlo Park and, much like Willittes and Grotz, was quite good in the first five innings, allowing only one run on two hits and a walk while striking out four. A Jaylin Davis home run and Granger Studdard RBI single scored the third and fourth runs of the day, and Colt Atwood's single against Tom Flippin in the seventh scored the fifth and final run for the Foresters. The Legends were shut out again, this time by University of Nebraska's Kyle Kubat, who went 6.2 innings and struck out nine, and reliever Brandon Quintero, who struck out another four. Dane Vande Gutche had a nice day at the plate for Menlo Park, going 2-5 and stealing a base in the 5-0 loss.
The Legends drove another hour south on Monday to play the Conejo Oaks. Devin Smith went 5.1 innings for Menlo Park, allowing two runs on three hits and a walk, striking out one. His performance was matched by Oaks starter Trevor Belecik, who went six innings, gave up two runs, and struck out nine. Trevor DeMerritt and Dylan Cook both had two hits and an RBI in the contest, and the Legends broke through in the top of the ninth against Tim Ginther, scoring two runs to take the lead. Ryan King, on for his third inning of relief, gave up a walkoff double to Conejo DH Zander Clarke and the Legends fell 5-4.
The last game of the series and road trip featured a stellar outing from Matt Blais, who struck out four over six scoreless innings for Menlo Park. An RBI double from Wesley Hoskins in the first inning put Menlo Park up early, but the offense stuttered after that against Billy Conrad, who threw a complete game and struck out six for Conejo. Steven Miller followed up a scoreless relief outing from Colton Landreth with 1.2 innings and three strikeouts, but allowed the tying run to score in the eighth and left the bases loaded with two outs in the bottom of the ninth. Grotz, Saturday's starter against Santa Barbara, gave up a walkoff single to Rich Nomura, giving the Oaks a 2-1 victory and concluding a frustrating 0-5 road trip for Menlo Park.
The two one-run losses in Thousand Oaks brought the Legends' season total up to 11, which is a testament to Menlo Park's overall talent and tough run of luck against some competitive teams. The Legends are now 5-19 on the year, 4-13 in the California Collegiate League.
David Klein's team returns home to face the Walnut Creek Crawdads. The Legends then look to extend their unbeaten streak agains the Pacific Union Financial Capitalists in a 4th of July afternoon game.