Legends Return Home After Tough Trip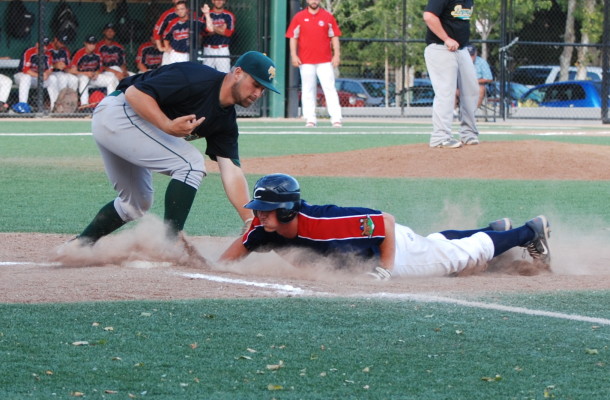 The Menlo Park Legends were swept by the Humboldt Crabs in a three-game series that took place on July 11th through the 13th at the Crabs' home field in Arcata, California. The losses put the Legends' record at 8-23, 7-15 in the CCL.
Menlo Park's offense shined throughout the series, particularly in Friday night's game, which featured gargantuan solo blasts from Cole Loncar (Texas Pan-Am) and Dakota Hernandez (BYU). Wes Hoskins' (Menlo) pair of doubles and Brandon Coborn's (Feather River) 2-for-4 night fueled a 9 hit, 6 run outburst against a dominant Humboldt pitching staff. Crabs' lefty Andrew Nelson, who entered the game with a 0.68 ERA in nearly 40 innings, was tagged for 5 runs on 6 hits in 5.2 innings and the Legends hitters worked 6 walks against Crabs pitchers in the game. However, that total was overshadowed by the number of free passes given up by Legends pitchers; Tim Willittes (Cornell), Steven Miller (SF State), and Ryan King (West Valley) combined to allow 9 bases on balls over 7.1 innings. Willittes cruised through 3 innings, striking out 6, but left in the fourth with the bases loaded after walking in three runs. Miller was quite good in relief, throwing 2 and 2/3 scoreless innings, but Ryan King gave up 3 runs in his two innings of relief, allowing 6 baserunners, and DJ Sharabi (SJ State) gave up 2 runs in 2/3 of an inning as the Legends fell 8-6. Trent Goodrich (2-5, 2 R, 1 RBI) and Alex Crosby (1-3, 1 R, 2 RBI) led the offense for Humboldt.
The Legends' bats came out strong again on Saturday, knocking 10 hits and scoring 4 runs. Hernandez and Loncar continued their torrid hitting, each notching two hits on the day. Zac Grotz was fantastic, throwing 7 innings and giving up only 1 run on 5 hits and a walk while striking out 5. The story of the day was the less-than-stellar officiating, as the home plate umpire denied the Legends a critical run by calling Trevor DeMerritt out at the plate when DeMerritt tried to score on a passed ball, even though it appeared he beat the throw from catcher Morgan McCasland by a considerable margin. Michael Chavez, who inherited a three-run lead in the bottom of the eighth, battled throughout his outing with an inconsistent strikezone, culminating in a questionable ball four call on a full count with two outs that loaded the bases for the Crabs and set the stage for third basemen Brent Gillespie's bases-clearing, 3 RBI triple that put Humboldt ahead 5-3. Menlo Park answered with a run in the top of the ninth, but it was not enough to beat the Crabs pitchers Jake Shull, Dillon Houser, and Zach Williams, as Humboldt took game two 5-4.
Steffen Simmons (Lindenwood) started the final game of the series for the Legends and went 5 innings, allowing 2 runs on 4 hits and 3 walks. Josiah Julagay (Everett CC) allowed 2 more runs in the sixth before being pulled for Ryan King, who followed up a rough outing on Friday with 1.2 scoreless innings. Tom Flippin (USF) was roughed up for 3 runs in 1/3 of an inning, 2 of the runs coming on a home run by Taylor Tempel, one of three Crabs longballs in the game. Three Crabs players logged two hits and two had multiple RBIs, fueling a 7-1 Humboldt victory. Wes Leow accounted for the entire Legends offense, knocking a solo blast in the eighth against Brian Bynum, whose 2 strikeouts brought the total on the day for Legends hitters up to 11.
The Legends return to the Bay Area and begin a marathon stretch of 12 games in 13 days as the summer season winds down. They'll face the two front-runners in the CCL North, the Walnut Creek Crawdads and the Neptune Beach Pearl, on Tuesday, Wednesday, and Thursday. Tuesday and Thursdays games will be played at Hurley Field. Menlo Park will then host the Bercovich Gold for a four-game series on Friday, Saturday, and Sunday.
The Legends will be without Kyle Zirbes for the remainder of the season. Zirbes suffered a broken hand in a collision with Wes Leow and Logan Trowbridge on Saturday.