Legends Keep Playoff Hopes Alive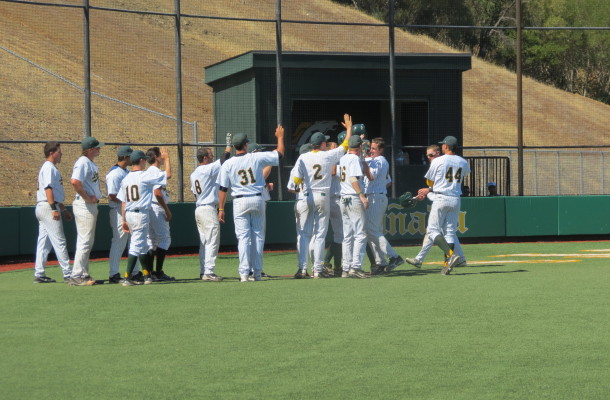 The Menlo Park Legends took the field at Canada knowing they needed a win to stay alive in the Far West League Playoff chase and got an outstanding effort on the mound from starter D J Sharabi as they defeated the California Warriors 11 to 3. Sharabi hurled six masterful innings, allowing only two unearned runs on three hits and four walks. He lowered his summer era to 3.13 while recording his team leading third win of the season.
The Legends offense jumped out early on Warriors starter Toccalino with four runs in the first. Dane Vande Guchte opened the game with a single, Logan Trowbridge followed with a single and Danny Miller plated the game's first run with an rbi double. Kyle Zirbes doubled in another run and Antonio Fresschet added an rbi single to produce a quick 4 to 0 lead.
Despite giving up single runs in the fourth and fifth, Sharabi was in control of the Warriors hitters throughout his six innings. The Warrior's hitters were often off balance and unsure of what to expect as evidenced by Sharabi's nine strikeouts.
The Legends built on their lead in the bottom of the fourth. CJ Jacobe singled, Vande Gutche walked, Trobridge singled in front of an intentional walk to Danny Miller before Matt Glomb and Ian Josh contributed rbi singles to produce five runs and and 9 to 1 lead. Miller would triple in the sixth and score on a Glomb groundout and added the final Legends tally in the eighth on a long home run to right field over the safety netting beyond the fence.
Lauren Oele worked two innings in relief and surrendered a single run on a hit and two walks and Shane Turner finished off a scoreless ninth. All but one of the Legends hitters contributed at least a hit and Vande Guchte, Trobridge and Josh all stole bases.
Danny Miller continued his torrid hitting, finishing a single away from the cyle. He also added three more rbi's to his impressive summer total. He now has 8 homers and 36 RBIs.
The Legends continue their playoff drive with a game against the Neptune Pearl on Friday July 26th at 5:00 at Canada. This will be the Legends final home game of the season