Legends Hand Gold Sox their First Loss of Year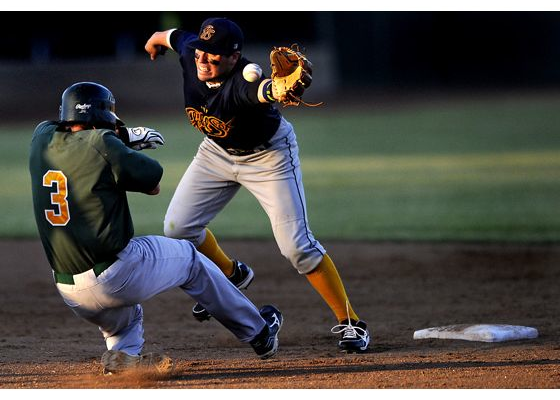 By Jimmy Graben of the Appeal-Democrat, photo by Nate Chute of the Appeal-Democrat
On Tuesday, $1,000 worth of hot dogs, hamburgers, tri-tip and chicken were stolen from Appeal-Democrat Park — apparently, that wasn't the only meat missing from the Marysville Gold Sox lineup on Thursday.
The Sox were no-hit through 6 1⁄3 innings by Menlo Park Legends right-hander Andrew Herrera of San Jose State as Marysville dropped its first game of the season in a 5-2 setback.
The Gold Sox (8-1) recorded their first hit of the game with one out in the seventh and Herrera was immediately lifted for reliever Mike Dodakian after tossing 84 pitches.
Marysville scored its two runs in the bottom of the eighth on Riley Drongesen's two-RBI double, but that was it offensively as the Sox finished with just four hits.
As the Horizon Air Summer Series schedule continues to increase in difficulty, Gold Sox manager Jack Johnson says his team has to step up to the higher level of competition.
"We did just about everything wrong tonight and they did everything right," Johnson said. "(Menlo Park) came out and sapped the energy from our ballpark and put it in their dugout."
At one point, Herrera retired 17 batters in a row. He struck out six, walked two and allowed just the one hit to earn the win.
Two of Menlo Park's five runs were unearned as the Gold Sox committed three errors. The Legends took a 1-0 lead in the top of the third on a throwing error by Marysville shortstop Shaun Mize.
The Legends tacked on two more runs in the top of the fourth with two outs on back-to-back RBI singles.
Another Mize error resulted in Menlo Park's fourth run of the game in the top of the eighth, and the Legends pushed a run across in the top of the ninth to complete the scoring.
"We made too many mistakes tonight," Johnson said. "With a team like ours that's brand new, they just have to worry about the next day's game and try to bounce back."
Gold Sox starting pitcher Brad Lohse went five innings, struck out four and allowed one earned run.
Yuba City's Chandler Eden tossed a scoreless inning of relief. His name was not called on day one of the MLB Draft, which consisted of two rounds. Rounds 3-10 commence today at 10 a.m. on MLB.com.
Johnson is eager to see how his team responds to Thursday's loss as it will be the first time the Gold Sox have faced this type of adversity.
"(The loss) will help with how this team will develop and what personality it will take on," Johnson said. "That's the fun thing about summer baseball. It will be interesting to see how the come out."
Ryan Anderson (2-0) will take the ball for Johnson tonight.
Due to Faith Night festivities, which include a speech by former MLB pitcher J.R. Richard and a concert, tonight's game will not start until 7:45 p.m.
Gates open at 5:30 for Faith Night.