Legends Fall To Top Speed, Crabs Beat Warriors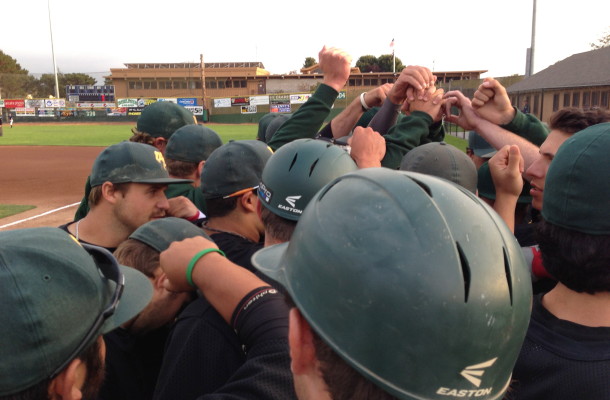 By Neil Tarpey of the Times-Standard
ARCATA — The Humboldt Crabs faced elimination in the FWL postseason tournament, so they did something they haven't done very often this season — got on the board early.
Humboldt smacked five consecutive singles in the first inning, with Cameron Olson, Clay Cederquist and Trent Goodrich contributing back-to-back-to-back RBIs for a three-run lead that propelled the team to a 6-4 win over the California Warriors Saturday evening.
The victory advances the No. 1 seed Crabs (39-14 overall) into today's once-beaten bracket game at 10 a.m. against the No. 4 seed Menlo Park Legends (23-22), who beat Humboldt in Friday's opener. The loss ended the season for the Warriors (32-24).
The loser of today's 10 a.m. game will drop out of the double-elimination tourney, while the winner will play No. 2 seed Top Speed Baseball (42-13) in the championship game at 2 p.m.
If the Crabs win both the 10 a.m. and 2 p.m. games, they have to play a second championship game against TSB at 6 p.m.
In Saturday's game, Humboldt tacked on another run in the second when Sergio Sanchez singled to center, driving in Jeremie Fagnan.
The Warriors closed it to 4-2, but in the the bottom of the fifth Humboldt's Nick Minteer doubled to drive in two runs in one of his big at-bats of the season.
This support gave starter Chad Hodges room to work, and the right-hander did his job, pitching 7 1/3 innings.
Thomas Cortese came on in relief and earned the save. He allowed three hits in the eighth, but retired the Warriors in order in the ninth.
Anthony Firenzi paced the Warriors with three hits, two RBIs and a run scored.
(2) Top Speed Baseball 3, (4) Menlo Park Legends 2
Matt Owen smacked a two-out double in the bottom of the ninth inning scoring Bo Walter from first, as TSB edged the Legends in Saturday's winners' bracket game.
Walter had drawn a walk on a 3-2 pitch from Matt Dodakian, who suffered the loss in relief of starter DJ Zapata.
The Legends built a 2-0 lead after Matt Glomb's RBI single knocked in Dane Vande Guchte in the third, and Vande Guchte's sacrifice fly scored Pierson Jeremiah in the sixth.
But TSB knotted the score in the home half of the sixth when Tyler Mautner belted a two-run homer that drove in Alex Sortwell, who had reached on an infield error.
Kyer Vega pitched two innings of no-hit relief to earn the W, while TSB starter Daniel Chavez limited the Legends to three hits in his seven innings of work.