Legends Fall to Crawdads, 4-3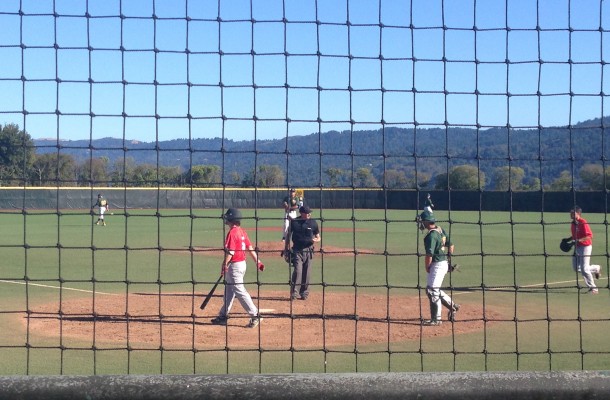 The linescore for the Menlo Park Legends resembled morse code Friday night at Canada College — 1 0 0 0 0 1 0 1 0.
That translated to a 4-3 loss at home against the Walnut Creek Crawdads, the third consecutive one-run defeat for the Legends.
"It's not that we're pressing," Legends manager Dave Klein said. "It's that we're not getting the timely hits."
The lack of crooked numbers on the scoreboard ruined DJ Sharabi's best effort on the mound. The College of San Mateo hurler scattered five hits and a pair of walks and six strikeouts in six shutout innings.
"This is DJ's best start," Klein said. "He came to compete today and it's a big step forward for him today."
Sharabi fanned his final batter to strand the bases loaded in the top of the sixth and was relieved with the Legends ahead 2-0.
"He was all around the plate," Klein said. "He did a good job of holding runners and was in good command of all his pitches."
The Crawdads failed to score in eight of the turns at the plate, but the difference was a four-run rally in the top of the seventh.
The 4-2 deficit was cut in half in the bottom of the eighth when Danny Miller, who has nine hits in his last 12 at-bats, scored on an error. But the tying run was stranded a third base.
In the bottom of the ninth, Kyle Zirbes and Pierson Jeremiah drew two-out walks, but Miller struck out swinging to end the game.
"We're just not getting the little breaks that we need," Klein said.
The Legends jumped ahead 1-0 in the bottom of the first after Coborn drew a leadoff walk, stole second, advanced to third on a wild pitch and scored on a groundout to first.
"We tend to score in the first inning very often," Klein said. "The problem is we're only scoring one run and we don't tack on. If we can keep that intensity out of the gate, we'll be in good shape."
The second run came across in the bottom of the sixth. Jeremiah led off with a single, stole second and scored when Miller's infield single was thrown away. The Crawdads made four errors in the game.
The teams return to Canada College today for a 1 p.m. contest, with a doubleheader starting at noon scheduled for Sunday.
"There's a new day, a new opportunity to get a win," Klein said.