Legends Battle But Come Up Short in SLO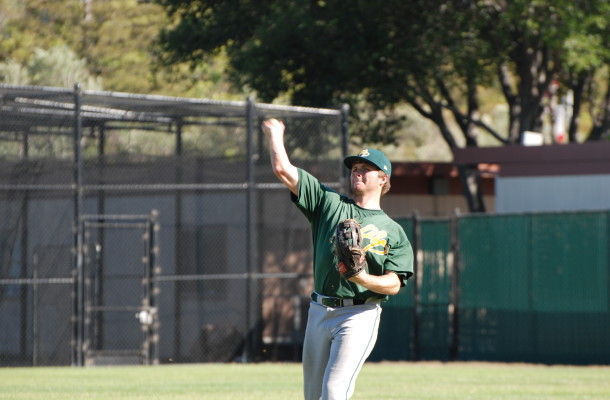 The Menlo Park Legends lost all three games of a weekend series against the San Luis Obispo Blues, dropping their record to 4-13, 3-8 in the CCL.
Friday evening's contest got out of hand in the first few innings for the Legends, as San Luis Obispo got some early production from Cal Poly's Zach Zehner and Oklahoma sophomore Austin O'Brien and eventually came away with a 9-2 victory. Michael Chavez, the left-handed redshirt sophomore out of West Valley College, went four innings and gave up six runs (four earned), and the Legends were shut down by the combination of hard-throwing righty Alec Hansen and the Blues bullpen. Menlo Park's offense was limited to four hits, one of those hits being a two-run blast by outfielder Jordan Winawer, bringing the the final score to 9-2.
The Legends sent Tim Willittes to the hill to square off against University of Georgia junior David Gonzalez on Saturday. Willittes went five innings and gave up two runs, walking six and striking out six. Dylan Cook led the Legends offensively, tallying three hits in four at-bats, knocking in a run and scoring twice. Kyle Zirbes, Brandon Coborn, and Wes Leow all had two hits as well, Zirbes and Coborn each tacking on an RBI. Menlo Park was down 7-5 going into the top of the ninth but rallied for three runs against San Luis Obispo closer Blake Whitter and left-handed reliever Vance Tatum, who walked three consecutive Legends with the bases loaded. Josiah Julagay, the new Legends recruit out of Everett Community College in Washington, walked five in the bottom of the ninth, giving up two runs and taking the loss as the game ended with a final score of 9-8.
Zac Grotz did his best to avoid a Blues sweep on Sunday, going six innings and allowing three earned runs, all three of which scored on a two-out, bases clearing double by San Luis Obispo slugger Jacob Hoyle, who had seven RBIs in the series. Matt Glomb and Winawer had multiple hits in the game, and Glomb and rightfielder Cole Loncar each scored two runs in the game. Devin Smith struck out the side in the bottom of the seventh but conceded three runs on a walk, two wild pitches, and a single in the eighth. Andrew Vinson came on in the top of the ninth for San Luis Obispo and sealed a 6-5 Blues victory.