Legends All-Stars Shine in Marysville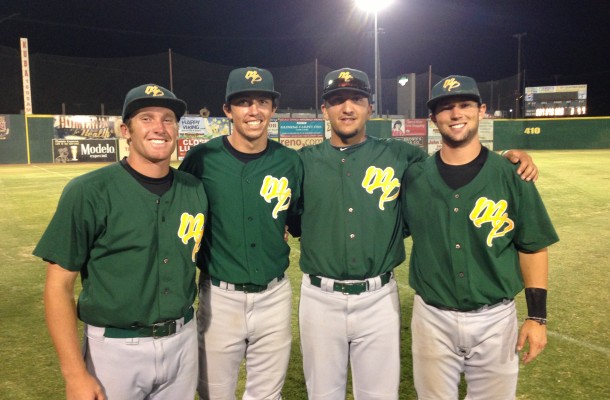 By John Reid of the Palo Alto Daily News
They went a long way for a tie in Marysville, but the four Menlo Park Legends all-stars were able to strut their stuff. Danny Miller, Ian Josh, Andrew Herrera and DJ Zapata were part of a Far West League all-stars team that tied a Horizon Air Summer Series all-star team 2-2 at Appeal-Democrat Park on Tuesday evening.
The game was called after nine innings because of a couple of reasons, said Alex Simon, who does public relations for the Legends.
"There were six all-stars from the Humboldt Crabs and they had a 5 1/2-hour ride home," Simon said. "Plus, some teams are in the playoffs this weekend and they didn't want to use up pitching."
Zapata and Herrera, both righthanders, got to show off their strong arms in front of a dozen major league scouts. Herrera threw seven pitches in the second inning, recording three straight outs. Zapata, who pitches for Santa Clara, struck out the side in the fourth, though he gave up a bloop single to center with one out.
"The radar guns may have been a little hot, but they clocked Zapata at 94 miles per hour," Simon said. "He was probably at 92."
Miller got on base twice, once on an error, once by way of a walk, but did not score. Josh played great defensively behind the plate, going 0-for-1 after entering the game in the sixth inning. The Far West League all-stars trailed 2-0 before plating two runs in the sixth inning to tie the game. Miller participated in the pregame Home Run Derby, but couldn't put one out of the 4,000-seat stadium in seven outs.
The Legends face the Crabs on Friday night in a first-round Far West League playoff game in Humboldt.