Legends Academy Teams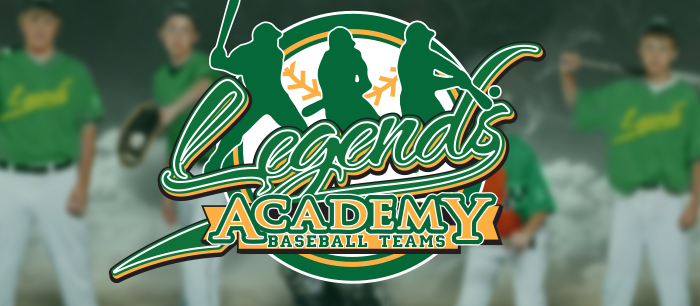 What is the Legends Baseball Academy?
The Legends Baseball Academy is designed for players who want to take their skills to the next level and maximize their potential BOTH on and off the field. If your child loves baseball, and wants to be a better player, he will be a great fit! The Legends Academy offers year round programming combining tournament play, conditioning, advanced coaching methodologies, and state of the art technology in a coordinated system to fully develop on field skills with an eye toward mental preparation, arm safety, and life skills.
The Legends are currently taking players into our academy by invite only. Please email david@menloparklegends.com if you are interested in joining our Legendary Academy!
Watch the Fall 2016 Academy Overview by Head Coach David Klein
2 Levels of Play for Each Age Group: The Legends Academy will offer two programs to suit the needs of all level of players.
Legends Gold Team will compete in high level tournaments.
Legends Green Team will focus on development and compete in local games against other travel teams.  If they are ready, Green team players may have the opportunities to compete in tournaments.
Based on numerous conversations with travel ball parents in the community, we listened to all the valuable input have developed a unique, one of a kind tournament team model.
The core of Legends Academy lies in detailed, high-energy practices run by the professional and passionate coaches of the Legends Collegiate Baseball team. The emphasis will be on developing advanced baseball skills as well as teaching valuable life lessons through preparation, competition, and teamwork.
Because we strongly believe that children should have a balance of experiences, our program provides all the benefits of a tournament team, while offering flexibility and time for other enriching activities and family events.
The Legends Academy will offer unmatched communication, top-level coaching, and a flexability that allows for a full lifestyle, on and off the baseball field. There's no other travel team like it!
Legends Academy FAQs
---
Tell me about the new Legends Futures Teams!
The Legends Academy is a new brand of  tournament teams! We spent almost an entire year talking to travel ball families to learn about the positives and negatives of the other programs out there. Our goal was to create a program which would improve upon the shortcomings of all the other providers while providing the advanced skills and competition provided by the tournament team experience.
---
How will the Legends Futures Teams differentiate from other travel teams? 
The following 3 areas are our areas of focus and differentiation: 
Highly Experienced and Professional Coaches – The Coaches of the Legends Academy will be the most experienced and professional coaches in Peninsula travel ball. All of the Legends Academy coaches are inspired teachers of the game who are incredibly passionate about bringing out the best in each and every player. Our practices will be run similarly to a college practice in order to maximize repetitions, work on the fundamentals and prepare the players for upcoming competitions eventually high school level baseball. 
Flexibility – Because we believe strongly that children should have a balance of experiences, our program offers flexibility to enjoy all the benefits of a travel ball team while still having time for other enriching activities.
First Class Communication and Customer Service –  Utilizing the newest apps for sports team management, the Legends coaches and full time staff will provide top of the line customer service to ensure families know ALL the details regarding your child's team. Whether it be the practice schedule, the necessary uniforms, or info regarding an upcoming tournament, our goal is to ensure all parents are up to speed on all info surrounding your child's team! 
---
What are some of the core philosophies and goals of the Legends coaching staff? 
Developing a love of baseball:  Our primary goal is to develop the kids' love for baseball. If kids are falling and staying in love with the game of baseball, that's a success! 
Detailed baseball skill training:  By developing children's' love of baseball, our program will enhance your child's work ethic so that he is intrinsically motivated to be the best he can be. We believe that detailed, high intensity practices are the best way to work on and improve baseball skills. The games and tournaments are the reward and allow the player to implement their skills in a pressure filled, performance environment. 
Teaching life skills through baseball:  The odds of making it to the major leagues are miniscule. Setting these lofty expectations is not in your child's best interests. The goal is to teach life lessons through baseball; dealing with failure, being a good teammate, accountability and work ethic are the primary areas of focus for our coaching staff.  
---
So what exactly will the program look like?  
The Legends Academy will consist of:  
Weekly outdoor practices
Weekly indoor hitting/pitching focused practices
Agility and strength workouts
Weekend games against local travel teams
Weekend tournaments against regional travel teams 
---
What will the Legends Future Teams cost?  
There will be a number of options available based on age and level of participation. In general, costs is between $900-$1700 for the fall season. 
---
How do I know if my child is a good fit for the Futures Teams?
If your child loves baseball, has some experience and wants to be a better player, he will be a great fit! The Legends Academy is best suited for players who want to take their skills to the next level and maximize their potential.
---
Will there be elite or advanced teams?
From the intermediate, to the advanced/elite player, the Legends Futures Team will offer programming for players of different levels. Decisions regarding time commitment and competition levels will be made after evaluations.
---
What should my child expect during the evaluation days?
The Legends Academy uses the most unique and exciting evaluation & placement system for the summer and fall Academy Teams! Legends Academy will use the Hittrax system where each player will be assessed on metrics such as bat path, exit velocity, ability to hit different pitches etc. We will also be measuring arm speed, defensive ability, baseball aptitude and overall athleticism. Parents will receive an email report directly after the evaluation as well as monthly evaluations throughout the season.
---
How do I sign up?
---