17U Legends College Development Team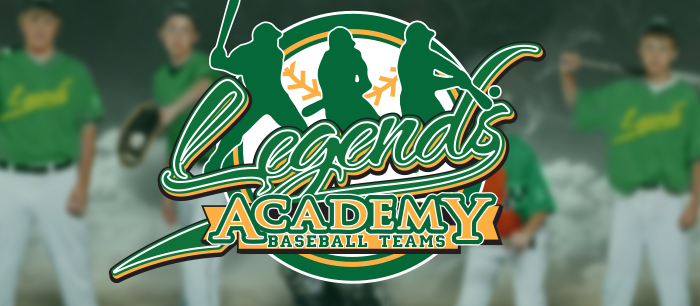 17U Legends College Development Team
Summer/Fall Program
Coached by Dave Trujillo, the 2018 Legends 17U Summer Team is for serious players who are looking to take their skills to the next level.  A highly touted hitting coach with over 15 years of Head Coaching experience, David's focus for the summer will be developing skills, competing against the best possible competition, and connecting players with the Colleges where they are interested in playing.  Coach Trujillo and Legends Executive Director David Klein will work with every individual to guide them on which colleges would present the best fit, and will develop a game plan to get players on the radar of their schools of choice.  Coach Klein has hundreds of college contacts, and will help kick-off the recruitment process by initiating conversations with coaches at their preferred schools.
Program Specifics
2-3 practices / week at Menlo-Atherton HS
3-4 out-of-area showcase tournaments (8-10 total tournaments)
2 strength & conditioning workouts/week at Menlo-Atherton HS with Legends Strength Trainer George Peters
College consultation, placement assistance and personal goal setting with David Klein
Player development & progress will be measured, tracked and distributed (exit velocity, bat speed, throwing velocity, squat, deadlift, bench press, home-to-first running time)

Roster Make-up
Roster will be comprised of 15-18 serious players.  All players must have a goal of playing at the next level.  Pitcher only players will be permitted onto the team. The team will compete in 18U local tournaments and 2019 grad year out of area tournaments. 
Team Commitment
Players invited to compete on this team are expected to play in the Summer and Fall, unless David and player decide a break is best due to arm/body health, and/or for developmental purposes.  Players are encouraged to have a diversified athletic portfolio, and we will work with players wishing to participate in other sports concurrently. A player who plays a fall sport like Football or Soccer can elect to play in the summer only.
Dates & Schedule

Schedule is intentionally light between the end of HS season and finals so players can focus on finishing the school year strong, and to provide throwing arms a period of rejuvenation.  3-week mini-break at end of summer/beginning of school year to allow student to get off to a strong start, and to avoid mental/physical burnout.
Summer Schedule: End of HS season (approx May 10th – August 12)

May 10th – June 7th – Maintenance and Rejuvenation Phase:  short/light workouts 2x / week to keep arm strength and timing at plate  (will not practice during finals week)
June 8th – July 5th – Strength/Conditioning, Velocity Development, Skills Focus & Team Practices
June 29th – Aug 12th – Practices and Summer Tournament Season
Aug 13th – Labor Day – 3-week break to rejuvenate
Fall Schedule: Sept 4th – Oct 28th

Sept 4th – Sept 22nd – Arm Ramp, Practice & Skill Building
Sept 23rd – Oct 28th – Fall Tournament Season
Tournaments



June 23-24:  Summer Daze Tournament – Santa Clara/Hayward/Fremont
June 29-July 3:  Under Armour So Cal Showcase – San Diego, CA

July 14-15:  Under Armour State Championships – Twin Creeks/Santa Clara/Hayward/Fremont
July 21-22:  Moonshot Classic – Hayward/Fremont

July 25-30:  New Balance Future Star Series – Houston, TX
Aug 10-12:  Local Tournament, Sunnyvale, CA (final Summer tournament)
** September 22nd:  Double Header – Atherton, CA
Sept 29-30:  Local Tournament – Sunnyvale, CA
Oct 6-7:  TBD Tournament – location TBD
Oct 20-21:  Local Tournament – Sunnyvale, CA
Oct 26-28:  Las Vegas Invitational Tournament – Las Vegas, NV (final Fall tournament)
bold = Out-of-Area Tournament
Costs



For the 2018 Summer/Fall season, the College Development Program Team costs will be $1,400.
$500 non-refundable deposit due upon registration
$450 (due May 15th)
$450 (due June 15th)
(Total program costs of $1,400 will be broken into 3 payments at check-out, and will automatically be charged to your credit card at registration, on May 15th, and June 15th. Confirmation will be given at registration check-out.)
(Note: 2 full scholarships are available upon request. These can be split into 1/2 scholarships)
There will be an additional fee of $350 for out-of-town tournaments, which will be charged at tournament time.
If you do not have a Legends uniform, you will be required to purchase a uniform and practice gear – estimated cost ranging between $150-$250 depending on required items.
Please note:  This team is by Invitation Only
For more information, contact info@menloparklegends.com