Keep Hope Alive, Keep Hope Alive!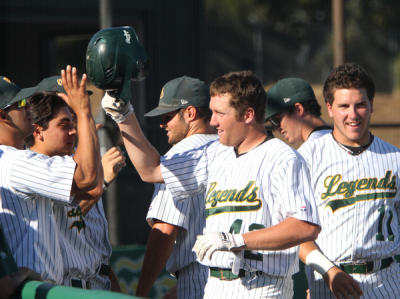 Facing a do-or-die three game series against the Neptune Beach Pearl to reach the playoffs, Menlo Park Legends Manager chose closer Mike Dodakian as his starter. Dodakian produced a truly Legendary performance with a nine inning complete game in defeating the Pearl 7 to 3 in an impressive 136 pitch effort. Catcher Ian Josh stated that Dodakian was able to spot his fastball, slider and changeup. "This is the best he has pitched all summer", Josh said.
The Pearl opened the scoring in the second inning with two runs on a single, rbi double by C Elliott and passed ball. The Legends answered back immediately when a Pierson Jeremiah single, Ian Josh was hit by a pitch and Kyle Zirbes lined an rbi single to make the score 2 to 1.
Dodakian held the Pearl scoreless in the top of the third and then the top of the Legends order exploded for three runs. Dane Vande Guchte doubled, Logan Trowbridge singled, Geo Saba hit a long double that saw Trowbridge thrown out on a terrific 9 to 4 to 2 relay to home plate. Danny Miller would not let the Legends sit in a tie as he belted his ninth home run to put the Legends ahead 4 to 2.
Devin Bronson was excellent for the Pearl, matching zeros on the scoreboard with Dodakian in the fourth, fifth, sixth and seventh innings. Tyler Cobb came in for the Pearl in the eighth and saw the Legends put the game out of reach. Matt Glomb double, PJ Jeremian singled, Ian Josh dropped a perfect squeeze bunt for an rbi, Zirbes had another rbi single and Vande Guchte finished the scoring with an rbi double and a 7 to 2 Legends lead.
Dodakian went out for the ninth to close the game. Elliott hit his second double and scored on an Ellison single. Dodakian was unfazed and recorded the final out of this critical game for the Legends.
The series moves to the College of Alameda for single games on Saturday and Sunday at 5:00 pm. Third and Fourth place in the Far West League are still up for grabs between the Pearl, Legends, Walnut Creek Crawdads and California Warriors.