Herrera's masterful start leads Legends to win over Crabs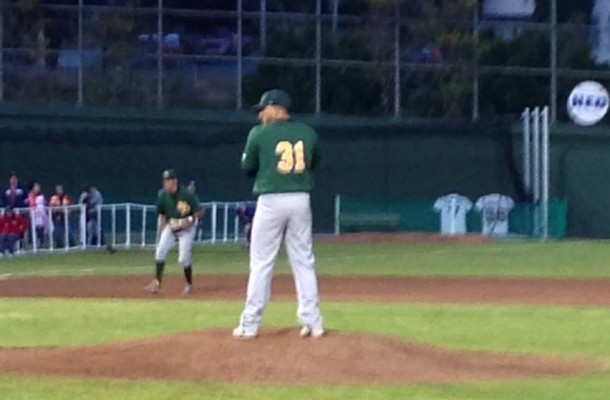 Story by Neal Tarpey of the Times-Standard
ARCATA — A bulldog and missed opportunities were the story in this tight one.
Right-hander Andrew Herrera pitched eight strong innings, scattering seven hits and allowing only one earned run to help the Menlo Park Legends defeat the Humboldt Crabs 4-2 in Far West League action.
The loss dropped Humboldt to 0-1 in the FWL and 8-3 overall, while Menlo Park improved to 4-1, 9-2.
"Andrew Hererra, he's a bulldog, a competitor," said Legends manager David Klein. "Overall, it was a fantastic performance."
The Legends were protecting a 4-1 lead in the bottom of the eighth when the Crabs loaded the bases with no outs on a walk, an infield error on a fielder's choice, and a single to center.
But Klein showed his confidence in Herrera — who took a no-hitter into the 7th inning against the Marysville Gold Sox last week — and kept him on the mound.
Herrera rewarded his manager's confidence, first by getting Peter Miller to ground into a 4-6-3 double play. Jeremie Fagnan scored from third on the play, and it left Sergio Sanchez at third with two outs.
Up stepped Cameron Olson, who stroked a would-be base hit, but second baseman Dane Vande Guchte dove to make a sensational stop and threw out Olson at first to end the threat.
Humboldt had a prior bases-loaded opportunity in the sixth, but Herrera allowed just a solo run on Clay Cedarquist's infield grounder that scored Fagnan.
Menlo Park's Mike Dodakian relived Herrera in the ninth and got three consecutive fly-outs to center field to shut the door on the Crabs and earn the save.
"Good game, good defense, good pitching," said Crabs manager Matt Nutter. "We had a couple of breaks but couldn't cash in.
"We came up on the short end tonight, but we'll strap it on and go out tomorrow."
Menlo Park used small ball to score its first two runs off Crabs starter Drew Bradshaw.
In the top of the third, Justin Bard led off with a single to center and Vande Guchte bunted him over to second. One out later, Logan Trowbridge drove in Bard with a single to center.
Danny Miller led off the sixth with a single to right, and Kyle Zirbes sacrificed him to second. C.J. Jacobe followed with an infield hit that preceded Matt Glomb's sac fly to right.
"I think we executed how we try to play," said Klein. "We bunted guys over and manufactured runs. And we got two-out clutch knocks."
The Legends held a slim 2-1 lead in the top of the eighth but added two big runs.
With one out, Miller doubled to right-center and Zirbes followed with a lined RBI triple to left. Jacobe then stepped up and stroked a single to right that scored Zirbes.
Kyle Moses and Sanchez each had two of the Crabs total of seven hits, while Zack McCoy smacked a double to the 394-foot mark in left-center field.
Bradshaw pitched into the eighth, allowing 11 hits, and took the loss. Cameron Law followed him and got a 4-3 double play to end the eighth, and then an around-the-horn DP in the ninth.
The Crabs and Legends play a doubleheader today, with first pitch scheduled for 12:30 p.m.
Menlo Park Legends 4, Humboldt Crabs 2
at Arcata Ball Park
MP 001 001 020 — 4 11 1
HC 000 001 010 — 2 7 1
Crabs Pitching
(LP) — D. Bradshaw, 7 1-3 IP, 11 H, 4 R, 4 ER, 0 BB, 5 SO
(RP) — C. Law, 1 2-3 IP, 0 H, 0 R, 0 BB, 0 SO, 1 HBP
Legends Pitching
(WP) — A. Herrera, 8 IP, 7 H, 2 R, 1 ER, 2 BB, 4 SO, 2 HBP
(SV) — M. Dodakian, 1 IP, 0 H, 0 R, 0 BB, 0 SO
Hitting
HC –Moses 2-5; Fagnan 1-3, 2R; Sanchez 2-4; Cedarquist 1-4, RBI; McCoy 1-4, 2B
MP –Coborn 1-4; Trowbridge 1-4, RBI; Miller 2-4, 2B, 2R; Zirbes, 1-3, 3B, R, RBI; Jacobe 2-4, RBI; Glomb 2-3, 2B, RBI; Bard 2-4, R