FWL All-Stars Play to Tie Against Gold Sox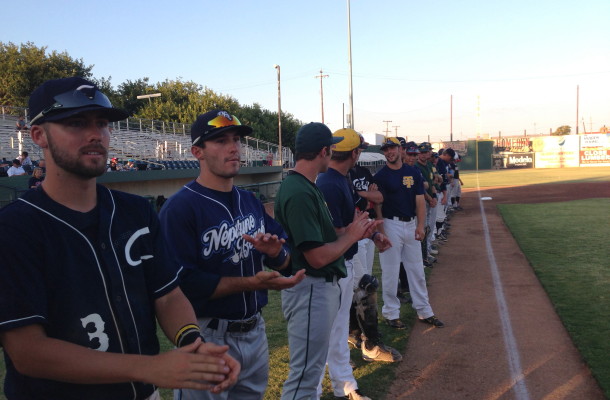 By the Appeal-Democrat of Marysville, CA
There's no ties in baseball, unless it's an all-star game, of course.
In a scene reminiscent of the 2002 MLB All-Star Game, the Marysville Gold Sox had to settle for a 2-2 tie against the Far West League All-Stars at Appeal-Democrat Park on Tuesday night.
The Gold Sox took a 1-0 lead in the bottom of the third on an RBI single by Jacob Hayes that scored Shaun Mize, who walked earlier in the inning.
Yuba City High grad Ryan Pope reached on a base hit and scored on a run-scoring single by Kaden Kamoe in the fifth to make it a 2-0 game before the Far West All-Stars got things going by scoring two runs in the sixth.
River Valley High product Cameron Olson delivered an RBI single to get Far West on the board and a passed ball allowed another run to cross home plate, tying the game at 2-2.
The Gold Sox (30-13-1) put runners on first and third with two outs in the bottom of the ninth, but couldn't push across the game-winning run.
Kamoe, who also doubled in the first inning, was named the game's Most Valuable Player. Pope finished with two hits as well.
Marysville will play servicemen from Beale Air Force Base in a softball game today before wrapping up the season against the San Francisco Seals and the Sacramento Legends.