Cook Powers Legends Past Pearl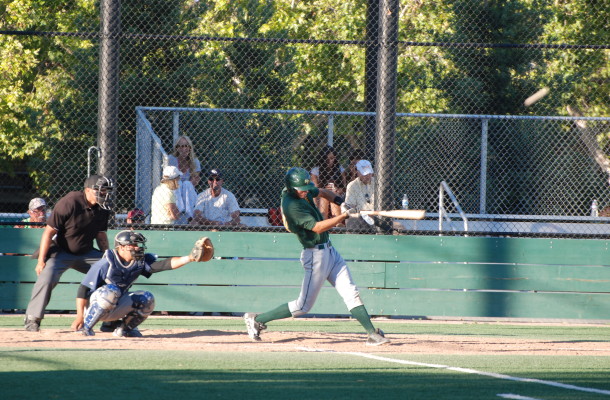 The Menlo Park Legends beat the Neptune Beach Pearl in an intra-division matchup on Wednesday by a score of 5-1. The Legends are now owners of a 4-10 record and the Pearl a 10-8 record.
Devin Smith got the start for the Legends and had great success commanding his pitches. Pitching 6 complete innings, Smith collected eight strikeouts and allowed only 1 run that came on a Mickey McDonald single in the 3rd.
The Legends scored their first runs in the bottom of the 3rd. Dane Vande Gutch drew a walk and then advanced to second on a wild pitch. Logan Trowbridge, the next batter up, also drew a walk. Dylan Cook then came through with a bases clearing double, scoring Vande Gutche and Trowbridge. Cole Loncar came up to the plate later in the inning and scored Cook with an RBI single.
Dylan Cook added a home run to his statistics in the 7th with a solo shot to deep left-center field.
The Legends scored again in the bottom of the 8th inning when Brandon Coborn hit an RBI double, plating Jordan Winawer who had entered the game as a pinch runner for Wesley Leow.
Stephen Simmons and Steven Miller both came in in relief and pitched a combined three scoreless innings.
The Menlo Park Legends will next travel down to San Luis Obispo to take on the Blues in a three game series this weekend. The next home game will be June 24th as the Legends will take on the Pacific Union Financial Capitalists. Come out to support. Fire it up!