2018 Summer Baseball Camps (6-12yrs)

The

Legends Baseball Experience Summer Camp

is one of the most popular and highest-rated baseball camps on the Peninsula!

 
---
Our unique skill-building philosophies and Legendary games make it the perfect camp for baseball-loving kids to develop their skills, build self-confidence and develop new friendships… all in a safe, motivating, and fun environment!

A Legendary Camp…
Our 5:1 Camper-to-Coach ratio promotes the most individualized learning environment possible, where each camper benefits from private & small group instruction, along with team-building experiences

Our coaching approach is directly tied to Positive Coaching Alliance Philosophies

coaches focus on teaching the fundamentals of baseball, while also building camper confidence and self-esteem!
  we celebrate improvement as much as accomplishment, and reinforce the values of hard work, teamwork, honesty & cooperation.

All of our Legendary head coaches have played at the Collegiate level or above!

All coaches, including our Junior Counsellors, are part of the Legends Baseball Academy

"Legends Life Lessons" are an essential element to every camp day

At Legends, we don't just work to build baseball skills, we aim to teach important life skills!
Each day of camp has a theme (teamwork, positivity, focus, hustle…) and the campers who best embody that them at the end of each day are celebrated and are recipients of our Life Lesson award! 

Innovative Games & Contests

– Our innovative camp program has been developed over 9 years, and combines drills, games and exciting contest that can only be found at Legends camp!


Games such as "capture the baseball", "lasers" and "zombies and survivors" allow campers to build confidence, make friends and have a legendary time- all while developing their baseball skills!
At Legends, campers receive:
Detailed hitting instruction (in batting cages & on-field)
Advanced fielding, pitching and base-running coaching
Small group and one-on-one training
Confidence, mental game and focus-building techniques
Legends Life lessons – aimed at developing well-rounded athletes
Awards, prizes and a Legends camp shirt!
---
A Day at Legends Camp


Our mornings begin with detailed instruction working on a variety of areas including hitting, pitching, catching, fielding (infield and outfield play), base running, sliding, and making plays.
Later in the morning we put these lessons to use in our unique combination of games, contests and challegnes that develop camper skills – all while getting quality repetitions and building confidence through fun contests, challenges & games!
In the afternoons, players are grouped by age and ability to form teams for the week.  Teams play against each other, putting to use the skills they've learned in the morning camp into game situations. 
Coaching emphasis shifts to teaching "in-the-game" skills, such as situational awareness, having a hitting approach and communicating with teammates.
FRIDAY FUN!  Fridays are the highlight of every Legends camp!

The entire camp is dividend into 2 teams, and compete against each other in the famous Baseball Olympics – combining all of the the baseball skills, life lessons and game strategies they've learned over the week for the highly-coveted Legends Championship!
---
Menlo Park Summer Camps
Dates:    Weekly camps  June 18 – Aug 10
Times:    9am-3pm
               (after-care available 3pm-5pm)
Location:    Menlo-Atherton High School, Varsity Baseball Diamond (Ringwood Ave entrance, Gym Parking Lot)
Costs:     
$375 per week (through January 31)
$400 per week (February 1 – March 31)
$425 per week (April 1 – end of summer)
After-care fees:  $30/day; $120/week
Redwood City Summer Camps
Dates:   June 25-29,  July 9-13,  July 23-27
Times:    9am-3pm
Location:   Kiwanis Little League Field, Red Morton Park (1311 Madison Ave, Redwood City)
Costs:     
$325 per week (through January 31)
$350 per week (February 1 – March 31)
$375 per week (April 1 – end of summer)
.
*MULTI-CAMP Savings: Sign up for 2 or more summer camps and receive an additional $25 discount!   Enter MULTICAMP25 in the "Discount Code" box during check out.
---
Maximize your summer fun!  Join us for more than 1 week!
No two weeks at Legends camp are the same:
We modify our program each week to allow for maximum skill development for our campers
Joining for 2+ weeks allows campers to build on the skills learned in week 1, and maximize their growth by getting more exposure to the coaches they are now familiar with
---
Questions?  Email info@menloparklegends.com
Camp Cancellation / Rain Policy:  If there is rain, or if you need to cancel for any other reason, you can switch to another camp session (pending availability) or can use registration credit towards summer camp or other Legends programs.  There are no cash refunds for cancellations made after June 1st, only camp credit.  There is a nonrefundable $50 administrative fee, per camp, for cancellations made prior to June 1st.
---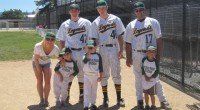 "David and his staff bring both the skills and fun to baseball"

"Excellent opportunity for young athletes to "learn from the pros". All Staff members made all boys feel welcome and proud of their accomplishments!"
"My sons had an amazing week! I'm so impressed by the camp and instructors. The boys not only had a ton of fun, but learned a lot in the process. We'll be back again next year!"
---
A letter from the Camp Director:
Going into our 9th year of summer camps, I feel extremely blessed and fortunate to have such a loyal customer base hear in Menlo Park and the surrounding area. We have seen such overwhelming support we have now outgrown the fields of Menlo Park and must look to other towns for field space! As a result we are excited to announce we are holding camp in Palo Alto and Redwood City in addition to our Menlo Park location.
Over the years I have befriended and worked with numerous camp parents and their smiling children; I am always genuinely delighted to see camper families return every summer ready to have fun and learn more about the game of baseball. From the 10 kid camps at Red Morton to the 50 kid camps at Nealon Park, there are many who have been with us since the very beginning. I feel privileged to have had the opportunity to make a meaningful impact on so many children and their development. As Legends Baseball Camp continues to grow and evolve our objective is to continuously improve and find unique ways to enhance the camp experience. Our continued focus and goals are as follows: (1) engendering a love of baseball in every single camper– from the first timer, to the all-star (2) teaching valuable life lessons through the game and its challenges (3) developing sound fundamentals and confidence through repetition, trust and constant positive reinforcement (4) preach and exemplify our motto for baseball success "have fun, work hard, play hard!"
Although Legends camp has grown considerably over the years, we are committed to generating the same intimate, "small camp" vibe by offering the most competitive camper to coach ratio around (about 5:1). We believe this is a big part of the "Legendary formula" as it allows the children to develop meaningful relationships with their camp coaches and maximize repetitions and individual attention.
Once again, I would like to express how grateful I am for all the support and loyalty we have felt over the years. We wouldn't have such an incredible community based youth camp and semi-pro team with you! I hope you and your families have a LEGENDARY baseball season and see you this summer!
Sincerely,

David Klein
Legends Baseball Camp Director